iHome Expands 'Health and Wellness' Speaker Line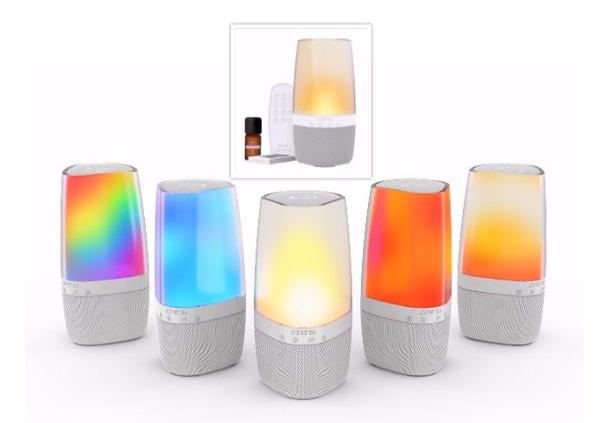 iHome is expanding its Zenergy line of line of health and wellness products with a Bluetooth speaker designed to create a calming environment with a combination of light, sound, and aromatherapy. That's right, aromatherapy.
When the line launched last year, it included the iZBT10 Dream speaker ($100), an app-controlled Bluetooth speaker featuring 10 calming "sound therapy" presets and 11 "light therapy and color-blending" modes in addition to an FM Radio with dual alarms and a sleep timer.
Now iHome is taking things a step further with the iZABT50 Aroma Bluetooth Speaker ($100), which uses concentrated "essential oils" — no water required — to create a pleasing aroma to go with its soothing light and sound "therapy." Unlike diffusers, the iZABT50 has a felt pad in the back where you place a few drops of your oil of choice (one bottle of "pure lavender essential oil" is included). A silent fan then diffuses the scent throughout the room.
The speaker includes a remote control and provides six sound therapy tracks to "calm the mind, lower breathing and heart rates, and prepare the body for sleep" plus seven light therapy modes to "align circadian rhythms at night and improve the mood throughout the day." The iZABT50 also functions as a conventional Bluetooth speaker able to stream music from Bluetooth-enabled devices and answer calls through its integrated speakerphone.
"In this increasingly stressful world, it's more essential than ever to find ways to relax and recharge," said Evan Stein, director of marketing for iHome parent company SDI Technologies. "Last year's Zenergy devices were all about restful sleep. This year we are proud to add several new products to the line that help people achieve serenity while they are awake as well."
For more information, visit ihomeaudio.com.