I Just Saw the Best Projector Demo Ever at CEDIA 2022
In a show where it's easy to become jaded by the impressive home theater AV systems found in the demo rooms, one audition stood above all the rest. The Christie Eclipse demo by Absolute Ultimate AV has set the standard by which I will judge all other projection-based systems. It is a technological wonder, a 4K system that offers the visual impact of an OLED TV at the large screen sizes home theater demands.
This is the first time the Eclipse has been demonstrated at a trade show. The visual impact is thanks to the Eclipse's unique ability to render pure black on a pixel-by-pixel basis, without having to dim the light source. This is achieved with a unique three-chip DLP, native 4K design that uses a secondary 3-chip block with the sole purpose of modulating (dimming) the light output. This is what makes OLED-like contrast possible. Plus, this projector reproduces the full rec.2020 gamut without a hint of laser speckle.
Unlike an LED video wall, this system's output always looks seamless and the screen itself is acoustically transparent. The result is a viewing experience that definitively surpasses anything I have seen come from a projector. According to Christe, the Eclipse achieves a 20,000,000:1 contrast ratio.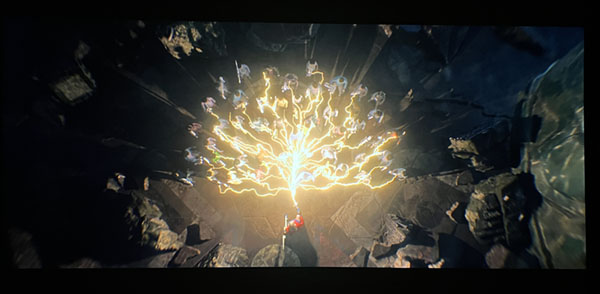 Something as simple as white text on a black background immediately reveals how the Eclipse operates in a different league. It's just there, on the screen, and everything around it is pitch black. I've only ever seen an OLED do that. I waited until the end of day two at CEDIA to experience the demo, so I'd already seen some other great projectors, including Sony's VPL-GTZ380, an $80,000 light canon, as well as a demo featuring a Barco commercial projector that simply could not compete on black levels, which really held it back in comparison. Even JVC's impressive NZ9, renowned for its 100,000:1 contrast, could not keep up (and is much more limited in light output).
Once we got to 4K movie clips, the gap between the Eclipse and all other projectors at the show became clearer. Top Gun Maverick, Doctor Strange in the Multiverse of Madness, and Thor: Love and Thunder offered further proof of this system's superiority. And not just subjectively better as far as I'm concerned, but also in the shared opinion of seasoned industry vets who emerged from this same demo, declaring it the ultimate in projected picture quality that they've seen so far. Simply put, you have to see it to believe it.
For what it's worth, the Steinway Lyngdorf speaker system proved a match for the visuals, the audio in this demo was as clear and impactful as what I heard in the best demos at the show. But the star of this demo was definitely the Eclipse.
Now, if you are thinking of picking one up, don't get too excited, we're talking about a projector that costs about as much as a house. But it is available now from Christie and Absolute Ultimate AV. And by all appearances, it is the absolute ultimate best projector you can buy.