SoundTube, dARTS Get Creative with Bass
SoundTube and dARTS, two of the seven audio brands owned by Kansas-based MSE Audio, are showing how to get creative with subwoofer placement at CEDIA 2022.
SoundTube, maker of the Original Pendant Speaker that hangs from the ceiling like a light, is displaying a different kind of subwoofer — one you can set on the floor (it has removable rubber feet) or mount on the ceiling or wall or in a corner. The SoundTube SM1001 Surface-Mount Subwoofer ($599, shown above) mates a 10-inch woofer and passive radiator in a trapezoid-shaped enclosure 24.5 inches wide, 15.5 inches tall (with feet, 14 inches without), and 12.5 inches deep.
Unlike today's typical subwoofer, the SM1001 is a passive design that requires external amplification. The sub weighs less than 30 pounds and is rated to handle 175 watts RMS or 350 watts max with a low-frequency rating of 26Hz (±3dB). SoundTube recommends pairing the SM1001 with the low-profile, rack-mountable P350 monoblock amplifier/crossover ($766) from Phase Technology, another MSE brand; the amp is rated to deliver 350 watts and has a peak output capability of 700 watts. The SM1001 is available in black or white.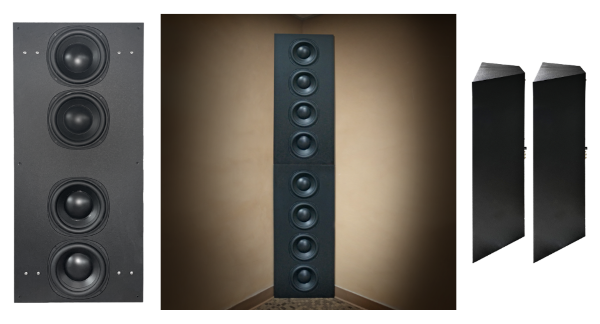 Not be outdone, sister company dARTS is unveiling the DCB410-SUB (above), a passive "floor-to-ceiling bass array" with eight 10-inch subwoofers housed in two stackable cabinets designed for corner placement. The towering array weighs 280 pounds and, as dARTS is quick to point out, the eight drivers provide a cone area that is the equivalent of a 28-inch woofer.
The array boasts an anechoic frequency response that dips down to 16Hz and includes an outboard P350 monoblock amplifier.
"The DCB410-SUB line array experience is like nothing most home theater listeners have ever felt or heard," explained Ken Hecht, vice president. "The linear wavefront impacts your body in a way that makes you feel the bass as much as you hear it. And when used as a double-bass array, room modes can be actively reduced giving more even coverage in the listening area."
dARTS has also updated its 5000 series line of active speakers with a new cabinet shape and lightly textured matte-gloss black finish and new, high-performance ribbon tweeter. The speakers are built to play loud — up to 124dB SPL — making them ideal for large spaces. They employ DSP-based crossovers, equalization, and time correction prior to amplification and all woofers and tweeters are directly coupled to an amp channel, "leaving nothing in the audio path to degrade the signal."
"The 5000 Series is the most extensive update we've ever done to the dARTS line," Hecht said. "With predictable precision, dARTS speakers ensure true sound perfection regardless of the room's acoustics."
MSE Audio's other brands are Soundsphere, Induction Dynamics, SolidDrive, and Rockustics.