Pro Audio Technology Gets High on Performance
Pro Audio Technology (PRO), the Lake Forest, CA-based company specializing in professional-grade high-end speaker systems, is wooing CEDIA showgoers with a slender in-wall/ceiling speaker for installations where space is limited but performance is crucial.
Due out by the end of the year, the SR-2408iw mates an 8-inch woofer, two 4-inch midrange drivers, and 1.5-inch ring radiator tweeter in a frame only 3.5 inches deep and suitable for retrofit installations or new construction. It can be configured to fire straight from the wall or at 40-degree angle when mounted flush in a 2 x 4 stud bay and is rated down to 45Hz ideal, making it suitable for full-range duty in home theater and distributed-audio systems. A paintable perforated-metal grille is available as an option.
"The SR-2408iw was developed to meet the speaker aiming requirement in a Dolby-certified DCI theater that is to be installed on a world-renowned VIP's mega-yacht," explained Paul Hales, PRO president and product designer. "The all-aluminum construction makes it suitable for the harsh yacht environment and allows us to achieve surprising fidelity and output from a speaker only 3.5 inches deep."
PRO is also demonstrating the new SR-28212ai speaker, featuring a 1.7-inch advanced polymer compression tweeter, two ultra-high output 8-inch midrange drivers, and two 12-inch woofers in a fully amiable enclosure 6 inches deep and capable of hitting sound-pressure levels that exceed 130dB. Designed with surround-sound systems in mind, the speaker is being hailed as the company's most acoustically ambitious and flexible speaker ever. Its three-in-one design combines a high-output, full-range speaker with an LFE (main) subwoofer and a subwoofer for surround and Atmos speaker bass management — all at the same time.
The SR-28212ai also marks the debut of PRO's Theorem Waveguide, which is said to offer "text-book-perfect on and off-axis dispersion of critical high frequencies." The speaker can be mounted flush in a wall or surface-mounted with a pivoting bracket.
Theory Gets Serious with Subwoofers
PRO is sharing booth space with its sister brand Theory Audio Design, which is moving into the architectural subwoofer space with two high-performance models designed to complement the brand's line of full-range in-wall speakers. Slated for delivery in early 2023, the iws12-6 and iws12-9 are each built around a 12-inch long-throw woofer with a massive 4-inch voice coil and designed for mounting in or on a wall (or ceiling).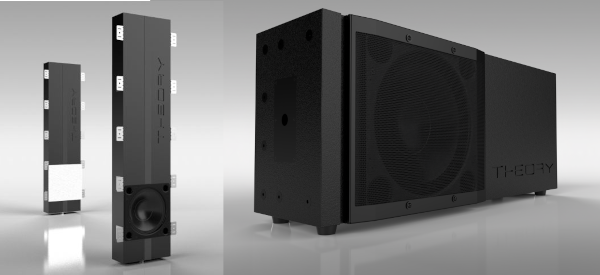 The iws12-6 has an elongated enclosure with a low-profile paintable grille that can be mounted flush in 2 x 6 stud wall or surface-mounted (it's only 5.5 inches deep). Measuring 34 inches wide, 14 inches high, and 9 inches deep, the iws12-9 is a more compact design that can be placed on the floor or mounted on a wall or ceiling with the included smart yoke bracket.
"The iws12 subwoofer driver is not consumer or car-stereo woofer with oversized surround stuffed in a sealed box proportioned to fit in a wall," Hales explained. "The driver at the core of the iws12 models is a professional-duty, high-efficiency, 1,400-watt (700-watt AES) 12-inch woofer… developed specifically for architectural applications and placed in an optimally tuned bass reflex enclosure."
Theory is also showing the ic6 high-output ceiling speaker and IP-controlled DLC-250.4 power amplifier introduced earlier this year along with two new high output IP-controlled amplifiers slated to ship in December: the DLC-1000.4 ($3,500) and DLC-1500.4 ($4,250), which can be IP-controlled through a wired connection or via its built-in Wi-Fi access point. Rated output into 4, 8, or 16 ohms is 4 x 1,000 or 4 x 1,500 watts, respectively. Both amps feature configurable outputs for powering multiple speakers.