Sony's Dueling Demos: XW5000ES and XW7000ES Projectors in Dallas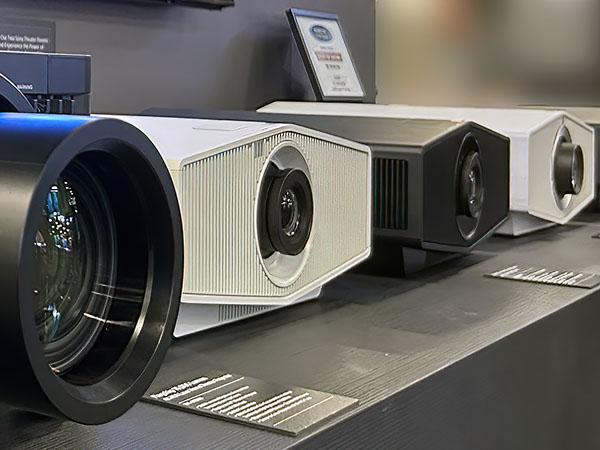 This year at CEDIA Sony had a huge booth containing three home theater demo rooms. There's the mega-system with the VPL-GTZ380, which I describe in
this post
. But that projector's $80,000 price point and 10,000-lumen output are beyond what most home theater owners want to spend or need in terms of output. However, the company is quick to point out that in terms of how the image is created—with three of its new 4K-native 2160 x 3840 resolution SXRD chips, its Z-Phosphor light source, and X1 Ultimate processor—its three new consumer home theater projectors share the same hardware with the big pro model.
The GTZ380 demo gave me goosebumps and pretty much blew me away, so kudos to Sony for that. The other two demos involved the Sony VPL-XW5000ES ($5,999) and VPL-XW7000ES ($27,999) projectors, which represent the entry-level and the premium model among its fully refreshed, all-laser home theater projector options. There's also a VPL-XW6000ES ($11,999) that sits between them.
The shared SXRD platform means that even the (comparatively) affordable 5000ES offers a lot of what makes its pricier siblings look so good, albeit with fewer lumens, and a lens that is not as sharp with no lens memory. There are other differences, but the 5000ES is a native 4K laser projector with a flexible lens (throw ratio is 1.38:1 to 2.21:1). It accommodates typical home theater layouts and gives owners up to 2,000 lumens of brightness to play with, perfect for smaller-size screens.
Despite its entry-level status, the 5000ES demo struck me as the more impressive of the two, even though technically the 7000ES outclasses the 5000ES. The reason for this has much more to do with the screen material than the projectors. The 5000ES was paired with a Stewart Filmscreen 120" that delivered a vivid picture, and I was surprised at how contrasty, detailed, and colorful the image looked. I caught an occasional glimpse of screen texture and hot spotting, but nothing out of line. The material was identified as Stewart StudioTek 130.
One of the things I liked about the 5000ES demo is Sony had the guts to use a high-end soundbar system instead of a built-in high-powered speaker system, which was commonly the case with other demos. Now, it's not like Sony used some entry-level soundbar, the company opted to deploy its flagship-class soundbar system components that delivered an enveloping experience, even though I did not have an optimal seat. It consists of the Sony HT-A7000 7.1.2 soundbar system with the optional SA-SW5 wireless subwoofer and a pair of optional SA-RS5 wireless, battery-powered surround speakers. According to Sony the system essentially sets itself up with an automatic spatial audio room calibration that uses mics built into the soundbar and satellite speakers. The system featured the optional SA-SW5 wireless sub for extra bass.
A Kaleidescape system served as the video and audio source for all of Sony's demos.
Sony Played what they called a PlayStation Sizzle reel, a compendium of clips taken from live gameplay which looked Pixel Perfect even at a 120-inch screen size, and with my sitting up front. Then came scenes from Spider-Man: No Way Home, which seemed spot-on quality-wise. I'd be totally happy with that performance in my home, and while I know that you can get even deeper black levels out of other projectors, I found that these are deep enough to create the necessary illusion and there are very few scenes—namely scenes that are nearly totally dark—where the blacks appeared anything but pitch black. And the projector clearly did this without crushing any shadow detail or any excessive highlight clipping.
Of course, with HDR your picture quality mileage may vary depending on the source material, I'm sure that Sony chose scenes that worked well with whatever settings they dialed in for the show.
Two out of three ain't bad, and I was impressed by the VPL-GTZ380 and the VPL-XZ5000ES. Unfortunately, the 7000ES demo failed to impress. The silvery 120-inch Phantom HALR Plus (high ambient light rejection) screen from Stewart was apparently chosen to show off how the extra brightness of the projector (up to 3,200 ANSI lumens) can overcome ambient light. Perhaps this is in response to the newly robust presence of UST projectors, a category where Sony was a pioneer but now has no new offering. The problem is the demo exhibited a shocking, overwhelming amount of hot spotting and what looked like laser speckle.
Whatever the cause, it was a major distraction. Whether looking at cinematic footage or video game graphics, it was impossible to ignore the deleterious effect of the screen on the image, especially knowing how good a picture Sony's consumer flagship ought to provide. After all, the 5000ES in an adjacent room looked much better despite lower specifications, the biggest difference was the screen itself.
During the 7000ES demo, Sony's rep changed the light levels in the room, ostensibly to show how well the image held up. It did remain bright with the lights turned up, but what I saw was that when the lights were on, the screen started to look washed out. And I could still see all the other issues. In this instance, I can say that most of the UST projectors I saw at the show looked better than the result of this failed experiment.
It is unfair to blame the poor results of the demo on the projector itself. The simple fact is UST projectors offer similar levels of light output but fewer artifacts, and crucially, lenticular UST screens do not exhibit the degree of speckle that I witnessed in this demonstration. Single laser USTs have none of it, while triple-laser RGB USTs have it to a lesser extent. Considerably less, even in the worst examples that I've seen. I do wish Sony had offered the alternative of seeing the 7000ES in a setting like the GTZ380, with a nice matte home theater-oriented screen. I think that would have given the projector a better opportunity to strut its stuff. A wasted opportunity, at least in my personal option.