Epson's Impressive LS800 UST Projector Demo at CEDIA 2022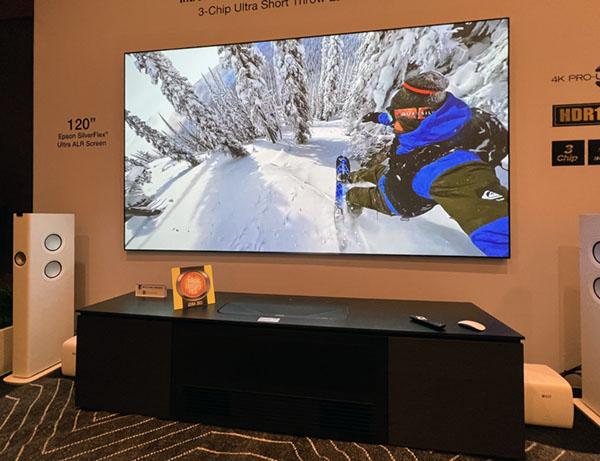 It's been three years since I last attended CEDIA and one of the most notable changes in the product mix is the prevalence of 4K UST (ultra-short throw) projectors. These projectors are designed to sit right underneath the screen and project a big image. At this show, the standout UST demo belonged to Epson and its new EpiqVision LS800 projector, a new model that offers several advantages over its predecessor, the LS500. It's my first hands-on experience with one and what I saw left a strong positive impression.
Specialized lenticular ambient light-rejecting screens help UST projectors deliver a high-quality image under a variety of lighting conditions. But the screen is only half the equation. High brightness is key to overcoming ambient light, and Epson's new LS800 UST projector is the brightest 4K UST, with a 4000 ANSI lumen rating. It is also the only consumer UST that is based on three-chip LCD projection technology, instead of DLP. A key advantage of LCD projection is that it offers a considerably lower input lag versus the DLP competitors, but the LS500 also has similar specifications, so what makes this projector innovative? Better? The lens is the answer, this is the first UST to offer a 0.16:1 throw ratio, which allows it to sit closer to the screen or wall.
The challenge with such an extreme throw ratio is maintaining the sharpness and brightness uniformity across the whole screen. With my own eyes, I saw the LS800 perform well in these key categories. Moreover, it is able to deliver a clear picture at up to a 150-inch (diagonal) screen size.
Because this is a single-laser design (rated at 20,000 hours lifespan), it does not have the rec.2020 ultra-wide color gamut you see in triple-laser RGB DLP USTs. But it also does not have the laser speckle and chromatic aberration issues I see in triple-laser designs. It is specified to cover 91% of the DCI/P3 gamut, which is very similar to other single-laser projector designs, even pricey home theater long-throw models. In fact, it has the same image processing as Epson's own LS12000 projector, which is tuned for home cinema applications. The LS800 produces a clean and sharp image that under modest ambient light looks extremely TV-like. It may not have the contrast or brightness of a TV, but the screen is immune to reflections and does not suffer from off-axis degradation in picture quality.
Epson sees sports fans as a target consumer for this new UST and I totally agree. The demo featured football in 1080p which looked good, and GoPro 4K footage of a skier that is undeniably impressive.
The Epson EqipVision LS800 also has a redesigned chassis that is wider than the LS500, but not as deep. Therefore, this projector easily fits on a standard credenza. The front of the projector is only 22 inches from the wall when it is projecting a 120-inch image, which is what Epson demoed using its SilverFlex screen that is sold separately or as part of a package with the projector.
Epson's latest projector is aimed squarely at the living room or family room. Of course, it can handle movies, but it also excels at live sports, TV shows, streaming (Android TV is built in), and video games. Gamers will appreciate the 16.7-millisecond input lag, no other UST comes close. On top of that Epson equipped this projector with an HDDMI port that accepts 120 Hz 1080p signals, for gamers who need high frame rates this is a viable projection-based solution.
The Epson LS800 is priced at $3499 on its own, or if you add the 120" screen, the total cost is $5500, and with the 100" screen, $4500. It is available in white or black. It ships this month.