Marantz Honors its Heritage with New Cinema Series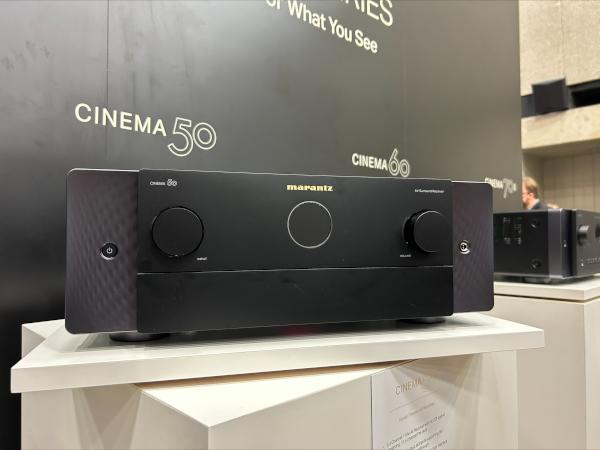 Marantz is honoring its roots as an audio pioneer with a new Cinema Series that melds high performance with high style.
As brand president Joel Sietsema put it: "The Cinema Series is the convergence of three unmistakable characteristics of Marantz heritage — exceptionally high performance, meticulous build quality, and elegant timeless design."
Slated to start shipping at the end of October at prices ranging from $1,549 to $9,000, the new lineup comprises four A/V receivers and a reference-caliber 16-channel amp/preamp combo. All models are 8K-ready and support Dolby Atmos and DTS:X surround sound with the top models adding processing for Auro3D and IMAX Enhanced.
The flagship AV 10 preamp/processor ($7,000) and companion AMP 10 amplifier ($9,000) deliver 16 channels of home theater goodness with numerous technical refinements including the brand's proprietary HDAM amplifier technology and an bevy of features including seven HDMI inputs, optical and coaxial digital jacks, and the now di rigueur phono input. The Amp 10 is ready to power a complete home theater setup with 16 x 200 watts of power, while the AV 10 provides up to 15.4 channels of processing.
From top to bottom, the Cinema 40 ($4,499) and Cinema 50 ($3,299) AVRs boast 11.4 channels of processing power with 9.4 and 9.2 channels of respective amp power at 125 and 110 watts per channel. Both include Audyssey MultEQ XT32 room correction and support Dirac Live. The Cinema 60 ($2,199) and Cinema 70s ($1,549) each bring 7.2 channels to the party with respective power output of 100 and 50 watts per channel. The Cinema 70s assumes the slimline form factor Marantz has long used for some products, making it ideal for tight living spaces or crowded media consoles and racks. All AVR models sport a high-definition graphical user interface and offer voice compatibility in addition to supporting Bluetooth and multiroom streaming via Wi-Fi/AirPlay 2 and the HEOS platform created by sister-brand Denon a number of years ago.
For more information on the Cinema Series A/V receivers, visit us.marantz.com. For more on the Amp 10 and AV 10 click here and here.