Samsung's New QN100B Flagship 4K TV Hits 5000 Nits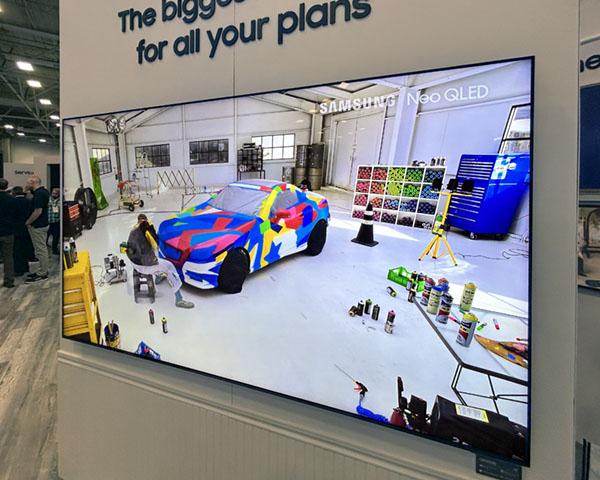 CEDIA 2022 is off to an exciting start, the show floor is buzzing and there's a lot of impressive AV technology on display. Much of what's on display is hyper-focused on the custom install market, which of course is CEDIA's raison d'être. But the newly introduced Samsung QN100B 98" 4K Neo QLED is of interest to anyone eyeing a supersize TV in the newly competitive "100-inch class."
Samsung's brag is the QN100B is its most powerful 4K TV, and by powerful, what the company means is this TV gets incredibly bright. In fact, Samsung says it's the brightest QLED the company has ever produced. With a peak luminance of 5000 nits, this model does not have to lean on tone mapping to reproduce HDR because even with 4000-nit mastered content, it has the horsepower to deliver HDR as it was mastered. And with most HDR still being mastered at 1000 nits peak, it's got headroom to spare.
This is a Samsung Neo QLED, so it has the same capabilities as other premium Samsung TVs, and then some. It's slim, just 19 mm deep, and it is a slab that sits flat on the wall. The built-in sound system is rated at 120 watts of total power and handles 3D immersive sound such as Dolby Atmos. Samsung calls it Cinema OTS (object tracking sound) and its foundation is six speakers that fire out the sides as well as the top of the TV. Plus, it supports Samsung's Q-Symphony capable soundbars, which when connected forms a single integrated sound system that leverages the sound bar and the TV's speakers for maximum immersion.
It's hard to gauge the performance of a TV in a show environment but the QN100B looks promising, it is a TV that should appeal equally to movie lovers, sports fans, gamers, and Netflix bingers. Unfortunately, I do not yet have pricing information to share, but based on the fact it is a successor to the QN90A 98" that is currently selling for $15,000, it's anticipated it will debut somewhere in that range, although the boosted brightness may wind up commanding a premium.
The main takeaway is that mini-LED backlit LCD TVs now achieve unprecedented levels of brightness that are in fact needed to properly render HDR. And while 8K is promising, there is arguably a greater benefit to the extra brightness versus 8K's extra pixels.