The HT iPad App Guide Page 3
Accessing Tv On The Road
When your A/V devices are Internet enabled, it's possible to access them from the road, assuming there's an appropriate app. Most of the wholehouse apps can access your gear anywhere in the world. Here are three apps, two requiring a Slingbox product, that allow access to TV content on the go.
DISH Remote Access (free)
• Watch live and recorded TV, browse and search up to nine days of programming, schedule DVR recordings, and delete shows on multiple receivers.
• Use app as a fully functioning remote control on select DISH receivers.
• Check app's details or DISH Network's Website for compatibility.
• Requires a Sling-enabled device.
SlingPlayer Mobile for iPad ($30)
• Works over 3G or Wi-Fi and requires a Slingbox SOLO or PRO-HD.
• Streams everything that's available from your current service provider.
• View and control video sources such as cable/satellite, Telco/IPTV set-top boxes, DVRs, basic cable, digital over-the-air broadcasts (PRO-HD only), TiVo, Apple TV, and home security cameras.
DIRECTV Sunday Ticket (free)
• For subscribers of DIRECTV NFL Sunday Ticket To-Go.
• Watch every game, every Sunday, no matter where you are. Not good for other days of the week.
• Live streaming video in HD.
• View highlights and see significant plays from every game, either individually or consecutively.
• View scores and game status for current week and games in progress. Check the schedule for upcoming games.
• DIRECTV provides an iPhone-only app for accessing the DIRECTV program guide and setting up DVR recordings.
Getting Advice
The Internet is full of great advice for home theater enthusiasts. Here are three convenient apps you don't want to be without.
Zinio (free)
• This app allows digital downloads of popular magazines including Home Theater. Always have your recent copy of HT with you.
TWiT (free)
• TWiT (This Week in Tech) lets you catch up on all your tech news from a wide assortment of audio and video podcasts. Check out Home Theater Geeks, hosted by Scott Wilkinson, online editor of our sister publication, Ultimate AV (ultimateavmag.com).
AVS Forum (free)
• Connect with like-minded home theater enthusiasts to discuss all things A/V in the longest-running home theater discussion forum on the Web.
Home Theater Installation
These two apps provide professional tools to help you set up a home theater. Both are only optimized for the iPhone, but I'd consider them indispensable for the DIYer.
AudioTools ($20)
Supplies a sound pressure meter, real-time analyzer, wave generator, line level tester, dual-channel oscilloscope, and more.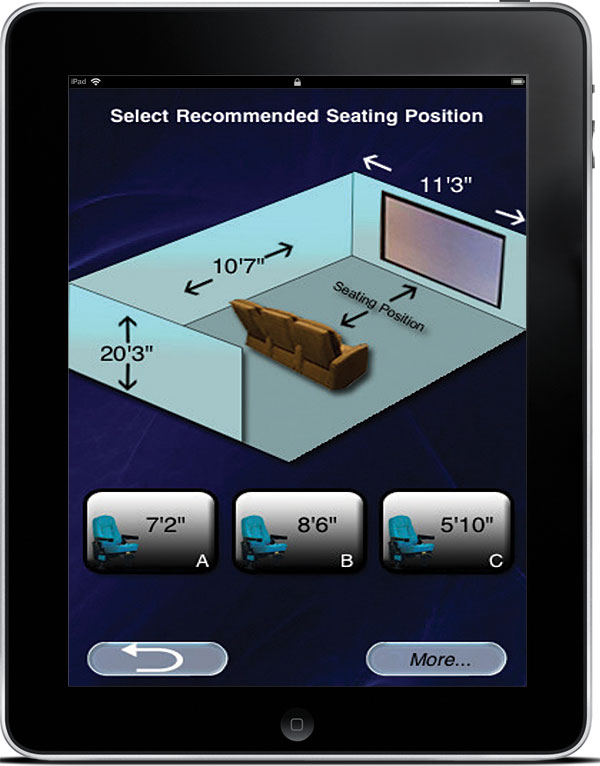 Home Theater Assistant (free)
Uses industry formulas to help determine optimal positions for seating, speaker placement, and screen size.
I sifted through a lot of apps to put this guide together. There were several categories of apps that you'd appreciate but I didn't have the space to include, such as apps for stream- ing media and apps that interface with your computer to access music and video files.
Apps are a relatively new phenomenon, and it will be interesting to see where this goes and what the next generation of apps will offer. While other platforms have apps, none have the sheer number of apps that Apple's iOS platform offers, especially with regard to A/V control. This new form of computing started with the iPhone, is continuing with the iPad, and is building momentum to something I'm not sure we can yet envision. We'll update our guide to iPhone/iPad apps from time to time to keep you apprised of all the fun A/V-oriented apps that are available.
---
* Disclaimer: All apps can be downloaded from the iTunes App Store either from an iOS device or computer. Unless otherwise noted, these apps work with the Apple iPad, iPhone, and iPod touch. However, some may not work with certain generation iPhone and iPod touch. Be sure to verify that the app works with your particular model.