Home Theater Geeks Among iTunes Best Podcasts of 2010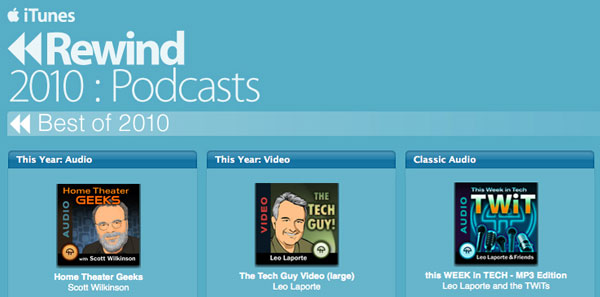 I'm pleased and proud to announce that Home Theater Geeks is among iTunes' "Best of 2010" podcasts. It shares this honor with 12 other shows produced by our friends at TWiT, which garnered more entries on the list than any other network—NPR has the next highest number with eight.
The TWiT podcasts in the list are:
Audio: Tech News Today, This Week in Computer Hardware, Home Theater Geeks, NSFW
Video: This Week in Tech, MacBreak Weekly, TWiT Live Specials, iPad Today, Tech News Today, The Tech Guy, This Week in Google, Windows Weekly
Classic Audio: This Week in Tech
Congratulations to all my TWiT cohorts!
WHERE TECHNOLOGY BECOMES ENTERTAINMENT