The Home Entertainment Show 2023 Kicks Off Friday in Southern CA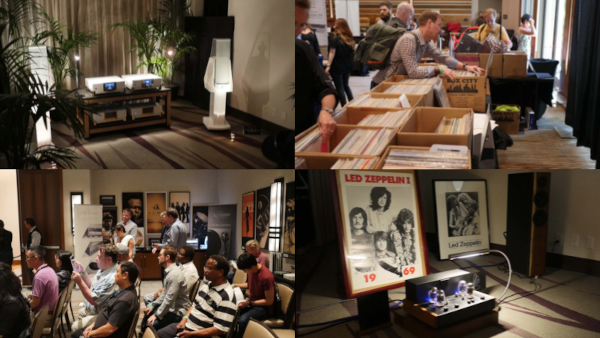 Audiophiles and music lovers from around the country are gearing up for the 2023 edition of The Home Entertainment Show (a.k.a. T.H.E. Show SoCal 2023), which opens Friday in Costa Mesa, California at the Hilton Orange County Costa Mesa hotel.
Billed as North America's longest running hi-fi audio show, the three-day event will host more than 150 high-end audio brands and feature a slate of events and seminars, including several focused on optimizing vinyl playback. Click here and scroll down for a list of the brands exhibiting.
In addition to nonstop music and demonstrations of the latest analog and digital streaming gear, the show will include a collector's market of rated vinyl records and CDs and a high-performance home theater.
Special events on Friday include "Luxury Cars and Bespoke Cocktails" at 4 p.m., an RSVP-only affair featuring a Lamborghini, Ferrari, and other high-end supercars, and a welcoming kick-off party at 7 p.m. Saturday events include a special 2 p.m. interview and Q&A with respected speaker designer Andrew Jones, which will be recorded for an upcoming documentary about his life, and a 7 p.m. concert starring Abigail Shelton, Emiko, and Julia Sawtell.
On Sunday at 1 p.m. Al Anderson, original guitarist for Bob Marley and the Wailers, will participate in a session entitled "Creating the Sounds Behind the Songs."
Show hours are as follows:
Friday, June 9: Noon to 6 p.m.
Saturday, June 10: 10 a.m. to 6 p.m.
Sunday, June 11: 10 a.m. to 5 p.m.
Discounted "early bird" tickets are available for purchase online through Thursday, June 8:
1 Day Ticket: $25
2 Day Ticket (Friday-Saturday or Saturday-Sunday): $39
3 Day Ticket: $55
T.H.E. Group Season Pass: $175 (includes three-day admission to this show plus admission to the upcoming Denver or Nashville show and a gift bag; this ticket is available for purchase online through Friday)
Admission is free for active or former military personnel and kids under 12. Click here to get more information and to order tickets.