Hohrizontal 51: iPhone dock meets shelf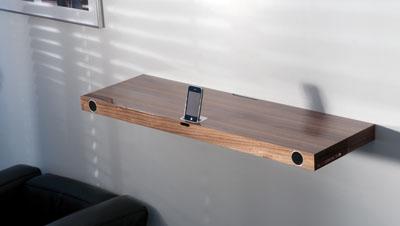 German speaker company Finite Elemente's Hohrizontal 51 iPod/iPhone dock is so simple, it's a wonder why no one has thought of it before. This meter-long slab of an iPod dock doubles as a functional shelf, combining minimalist design with surprising and obvious functionality.
The Hohrizontal 51 features two 25-watt speakers with a specified range of 50 Hz to 25 kHz, and can accept inputs from iPods, iPhones, computers, and other media players. It also can hold up to 55 pounds, so it's more than enough to hold your knick-knacks (or, redundantly, your bookshelf stereo system).
All that functionality and German minimalism comes at a price, though. The Hohrizontal 51 will cost you $650, and is currently only available through German dealers. On the bright side, it comes several different finishes, so your new iPod dock-shelf can be anything from walnut to bright red.
— Will Greenwald
[Source: Gizmodo]
LATEST VIDEO
WHERE TECHNOLOGY BECOMES ENTERTAINMENT