Hisense Launches $3,000 4K 'Laser TV'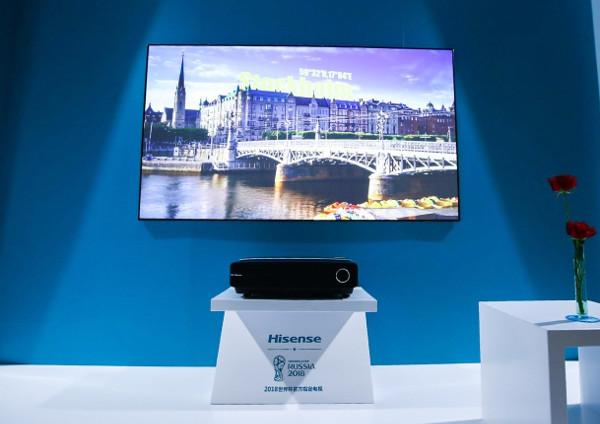 China-based TV maker Hisense today announced the availability of an 80-inch followup to the
100-inch 'Laser TV'
it introduced last year.
With a retail price tag of $3,140, the two-piece ultra-short-throw L5 Laser TV projection system delivers a screen that's 20 inches smaller at a cost that's less than a third of the 100-inch model, one of Sound & Vision's 2018 Top Picks.
Proclaiming that its DLP-based laser projection systems are poised to become the "big disrupter in the home theater market for 2018," Hisense said in a press release issued in Beijing: "With highly affordable pricing, the new product is well within the reach of families with modest incomes."
"To date, the popularity of laser televisions was hobbled by two drawbacks, the lack of brightness in the image and the extravagant price," the statement went on to say. "The newly launched L5 laser TV solved these two pain points. The model comes with 400 nit brightness, a substantial increase over all existing laser models, as well as a new generation custom-made Danish DNP high gain anti-light hard screen, enabling a clear picture display no matter how bright the surrounding light… The second barrier to laser TV ownership has been done away with a price tag of 19,999 yuan (approx. US$3,140)."
Built around the new VIDAA AI (artificial intelligence) system Hisense developed with AI component company Yi+AI, the L5 features an automatic sports mode and "screenshot sharing of wonderful moments."
Hisense says the 80-inch screen can be viewed comfortably when sitting as close as 10 feet away.
For more information, visit hisense-usa.com.
Related:
Hisense Laser TV 4K DLP Projector Review, posted April 3, 2018
Hisense Lasers On, posted January 9, 2018
Hisense 65H9D Plus LCD Ultra HDTV Review, posted December 4, 2017