HiFiMan Goes All Out with Shangri-La Headphones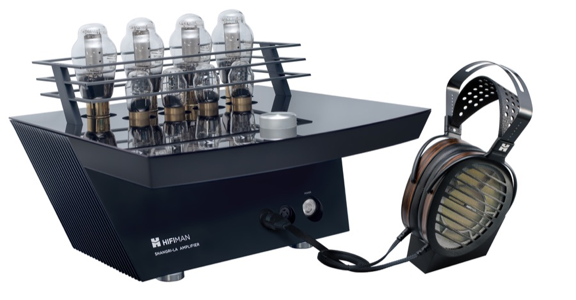 HiFiMan today announced that the cost-no-object electrostatic headphone system it has been working on for years is now available for pre-order.
Dubbed Shangri-La, the $50,000 system includes a custom-designed tube amplifier and builds on company's expertise in nanotechnology, used here to create super lightweight, cutting-edge headphones with "virtually zero distortion and lightning fast response." The headphones weigh only 13.2 ounces.
The heart of Shangri-La is a nano-particle-coated driver so thin it is not visible from the side with the naked eye. The new, lightweight electrostatic design is said to deliver "remarkable, lifelike openness" when combined with its dedicated amplifier.
The use of a tube amplifier was critical to the system's overall design because its regular output is high enough to drive the electrostatic headphones without the distortion-producing transformers used in solid-state amplifiers to boost voltage to the required 500-600 volts. Vacuum tubes—in this case four audiophile-grade 300b tubes—are a perfect match for electrostatic headphones, according to HiFiMan.
"Creating the world's best sounding headphone has been my lifelong dream," said Dr. Fang Bian, founder and president of HiFiMan. "While HiFiMan has made many good headphones, and people certainly enjoy them, none has ever fully satisfied that dream. So, I set upon this journey in the Shangri-La project using my PhD in Nanotechnology to create a special ultra-thin driver for an electrostatic design. We then designed a special amplifier using 300b tubes which creates a perfect match to the headphones and plays a critical role in the sound. I feel I have achieved my dream so I hope everyone at CES will come see us for an audition. I guarantee they will not be disappointed."
The headphones use HiFiMan's proven open-back "window shade" grille, which in addition to protecting the fragile diaphragm, is designed to avoid vibration and distortion. The grille also complements the system's industrial design, featuring premium alloys and wood trim.
Every aspect of the headphones were carefully considered. The ear cups have an asymmetrical shape that follows the form of the ear and are fitted with beveled ear pads to ensure comfort and to achieve a good acoustic seal. The headband, which combines a special metal alloy with fine calf's skin, is designed to distribute pressure evenly on any size head to further enhance comfort and improve bass response by ensuring a tight seal around the ears.
Slated for "late spring" 2017 delivery, the Shangri-La system can be ordered at hifiman.com.