Henry: Portrait of a Serial Killer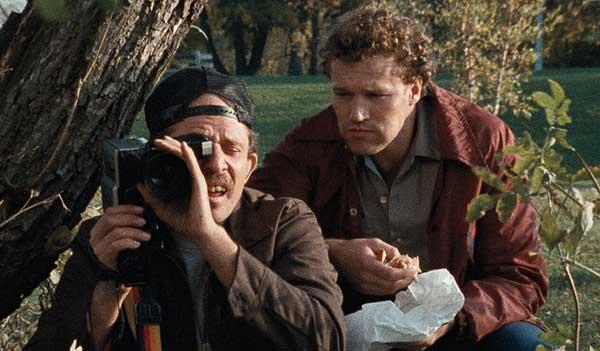 The 30th-anniversary 4K scan/restoration of the original 16mm camera negative offers a more generous framing than the previous Blu-ray edition, revealing additional picture information yet faithfully maintaining the proper 4:3 aspect ratio. The modest run time makes possible a high bitrate that keeps excessive compression at bay, and the inherent film grain remains. Video noise can be mildly distracting, with a noticeable flicker tainting a few difficult shots, while blacks can be a little flat. Detail is generous, and there's appreciable depth of focus. The color has been retimed to be more accurate, and the ubiquitous blood in particular is enhanced.
The remixed soundtrack is presented here in DTS-HD Master Audio 5.1. The score exhibits a pleasing spaciousness, remarkable for a lowbudget film of this era. More than once, the music extends into the surrounds and hangs there for a moment in a disturbing fashion that helps set the mood, like the lingering echoes of Henry's past transgressions. Dialogue is clear, and the multichannel rendition never degrades into gimmickry. The original stereo mix is also preserved, thankfully, as high-quality Linear PCM 2.0.
Well-produced new bonus material joins some archival extras. Included are over 20 minutes of deleted scenes and outtakes, accompanied by director commentary because the original audio has been lost. These are ported from an earlier release but not upgraded to HD. Multiple featurettes serve to put Henry into the proper context, analyze the impact that it had upon its initial release as well as the controversy that has long surrounded it, its deeper significance, and the influence that it has had on the genre since.
Blu-Ray
Studio: Dark Sky Films, 1986
Aspect Ratio: 1.33:1
Audio Format: DTS-HD Master Audio 5.1
Length: 82 mins.
MPAA Rating: Unrated
Director: John McNaughton
Starring: Michael Rooker, Tracy Arnold, Tom Towles
Anchored by a disquietingly reserved performance from star Michael Rooker (The Walking Dead, Guardians of the Galaxy), this Portrait is an artful character study of a very bad man. Loosely based upon documented events, Henry explores the unspeakable crimes of an unrepentant murderer, a dark soul whose bleak existence is punctuated by frequent acts of violence. And when he brings his particularly loathsome roommate into the fold, no one in Chicago is safe. The matter-of-fact dramatic style makes the instances of gore hit that much harder, and yet plot developments are sometimes revealed in clever, original ways. Deservedly or not, the movie remains unrated, which has kept it from a wide audience these many years, and it is a fascinating artifact when seen through the eyes of today's ultra-sensitive, politically correct culture.
LATEST VIDEO