HE 2006 RAVE Awards
Here are some photos from this year's annual RAVE (Recognizing Audio and Video Excellence) award taken at the 2006 Home Entertainment Show at the Sheraton Hotel in Los Angeles.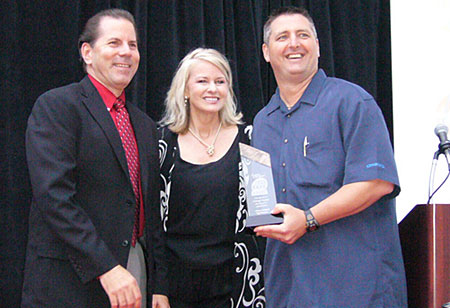 1) Onkyo: Best Receiver, Under $1,000: Onkyo TX-SR503 A/V Receiver Home Theater editor Maureen Jenson with Onkyo's Keith Haas left and Paul Wasek.
2) Optoma: Best Entry Level Projector: Optoma H27 DLP Projector. MJ with Optoma's Joe Perella.
3) RAVE Award party was packed.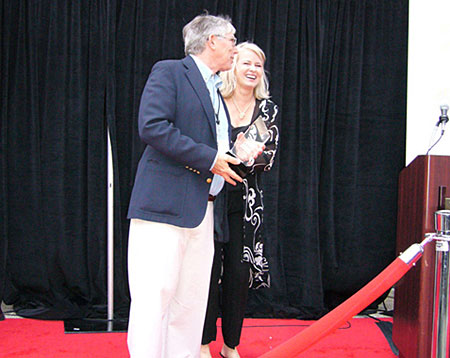 4) Peter Tribeman accepting for Best Entry-Level Speaker System: Atlantic Technology System 920 Speaker System.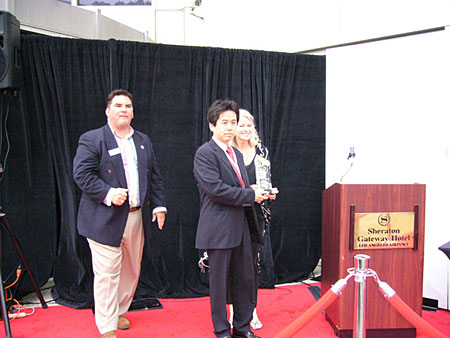 5) Product of the Year went to Sony's KDS-R60XBR1 SXRD HDTV.
6) Best High-End Speaker System went to Vandersteen Audio Speaker System. MJ with Richard Vandersteen.
7) Tom Hannaher accepts for the Best Convergence Product: ZVOX 315 Sound Console Amplified Audio System.
8) Best Amplifier Under $3,000: Parasound Model 5250 Amplifier. Parasound's Richard Schramm with MJ.
9) Lionel Goodfield with HT Publisher John Hurley accepting for Best Source Component, Over $500 Simaudio MOON Orbiter Universal Disc Player.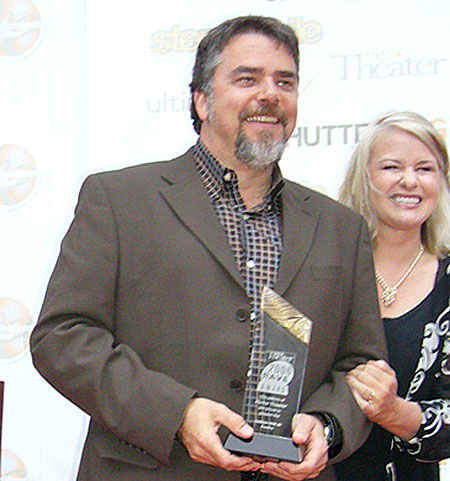 10) Rob Sample accepting for Best Pre/Pro, Under $3,000 Anthem AVM 30 Pre/Pro
11) Best Custom Product: Polk Audio's Paul DiComo for the LC265i In-Wall Speaker System.
12) Alan Hook receiving for Monitor Audios' Best Midpriced Speaker System: Monitor Audio Silver RS 6 Speaker System.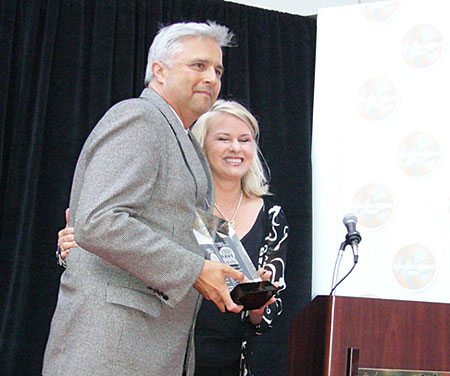 13) Best Receiver, Over $1,000: Denon AVR-5805 A/V Receiver was accepted by Len Provost.
14) Joseph Sayhoun, President of Earthquake received for Best Amplifier, Over $3,000: Earthquake Cinénova Grande Seven-Channel Amplifier. We are waiting for that picture in addition to John-Paul Lizars receiving for Best Pre/Pro, Over $3,000: Primare SPA21 Surround Processor/Amplifier.
15) Other products that received awards:
• Best Overall Projector: InFocus 777 DLP Projector
• Best Flat-Panel Display: Panasonic TH-42PX500U Plasma HDTV
• Best Source Component, Under $500: Sony DVP-NS975V DVD/SACD Player
• Best Home-Theater-in-a-Box System: Harman/Kardon CP 35 Home Theater System.
• DVD of the Year: The Lord of the Rings: The Return of the King Special Extended DVD Edition (New Line)