Having a Ball with HDTV Page 2
One often-overlooked advantage of DTV broadcasting is the ability to include a Dolby Digital 5.1 audio track. Harry Hutt, executive VP and COO of the Action Sports Cable Network, ranks surround sound right up there with wider shots and higher resolution. "You can hear much more of the game, and we don't have to string 30 microphones to get it. You hear the squeaks of the sneakers."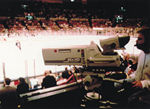 Legacy Elements
Standard-definition elements will continue to rear their heads in high-definition sports broadcasts. "We can do instant replay in HD," says Franks of CBS, "but we can't do super slow-mo in HD. We cannot yet project the first-down line in HD or use 30 cameras to rotate the field of view 180 degrees in HD. The wireless RF cameras that we use so much in our golf coverage aren't available in HD. People complain that we mix in SD, but that's the only way to give them things they're accustomed to."
Garvin's HDNet has worked out a kind of HD/SD visual etiquette: "When we use SD sources, we upconvert them but never fill the screen with them. If the SD production has something that we want, we put it in a box and fill up only part of the screen." They also label it as such.
Garvin predicts that the visual styles of high- and standard-def will continue to bump heads, at least on other networks. "You'll see an effort by broadcasters to do HD and SD from the same system or truck. When that happens, the HD viewer is going to have HD quality but not ideal composition and coverage for HDTV."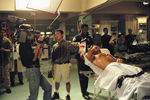 According to Hutt, ASCN broadcasts are all HD. "The graphics are set to HD, the switcher is HD, and all of the equipment we've bought is pure HD equipment. We don't mix and match at all. We decided to do it right."
Format Feuds
Controversy surrounds the Fox Widescreen telecast of Super Bowl XXXVI. Fox Widescreen used a 480-line progressive format, which is not high-definition. An internal memo written by Jim DeFilippis, Fox's chief of engineering, and leaked onto the Internet also suggests that interlacing crept into the production process: "The production of the game, pregame, and halftime show will be 480i60 widescreen (16:9)...We will deliver a 4:3 [feed] to all stations and, for the DTV stations, they'll get a digital 16:9 480i60 feed. Our stations will then convert this to a 480p60 signal for broadcast."
"Beware of what you read in press releases," says Internet poster Lee Wood. Fox spokesman Lou D'Ermilio shoots back: "Lee Wood is a broadcast engineer for the CBS affiliate in Portland. His POV may be skewed a tad." D'Ermilio adds that only portions of the game—feeds from certain cameras and other legacy elements—were produced in the interlaced format.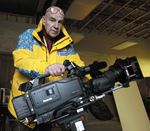 Fox's skepticism about HDTV is well documented. DeFilippis has been quoted elsewhere as saying that "HDTV is just a marketing term." Still, give Fox some credit. In partnership with Thomson Multimedia, their broadcast reached football fans in 27 cities—that's more than half of U.S. households—in Dolby Digital as well as widescreen.
The dominant format in DTV broadcasting is 1080i, which is the format that CBS, NBC, the new sports cable networks HDNet and ASCN, and the New York-area channel MSG use. The WB Network will soon join the 1080i fray, as well. ABC uses the 720p format, which delivers more frames per second and is better at reproducing motion, and Fox has occasionally talked about using it. Unfortunately, neither has done much HD sportscasting lately.
On the New Networks
Now that a couple of HDTV sports channels have entered the fray, fans needn't depend solely on the big networks. Mark Cuban's HDNet provides 16 hours of programming a day. HDNet stepped up to the plate with 80 Major League Baseball games this year, plus 15 from the end of the 2001 season. National Hockey League action included 65 games from the 2001-2002 season, including the Anaheim Mighty Ducks, Los Angeles Kings, Colorado Avalanche, Phoenix Coyotes, St. Louis Blues, Dallas Stars, Detroit Red Wings, Nashville Predators, Carolina Hurricanes, Minnesota Wild, and Pittsburgh Penguins. HDNet has also featured several National Basketball Association games (in conjunction with NBC), while Dallas-area viewers get to watch select games from Cuban's Mavericks. Other HDNet programming has included NCAA men's basketball, Arena Football League action, Ivy League basketball, NCAA women's volleyball, the Equestrian High Prairie Grand Prix, a historic Harvard versus Yale football game, the Phillips 66 National Swimming Championship, the U.S. Freeskiing Open, the Extreme Monster Truck Nationals, boxing, lacrosse, and wrestling. The channel's biggest coup was coproducing the 2002 Winter Olympics with NBC, including the opening and closing ceremonies, figure skating, speed skating, ski jumping, and hockey. Broadcasts were subject to a 24-hour delay, but that just built anticipation (and an audience) for Sarah Hughes' triumph in the figure-skating competition.