Outside the Box
Integrated digital cable-ready TV sets are here. How well do they work?
As the transition from analog to digital television moves along, it was only a matter of time before fully integrated digital TV sets (those with built-in digital tuners) started coming to market. Driven by the Federal Communications Commission's mandate to include over-the-air (ATSC format) tuners in 50 percent of all new TVs larger than 36 inches (diagonal) beginning in July, 2004, manufacturers clamored to also include some means for customers to receive digital cable TV programs without having to use a separate set-top box.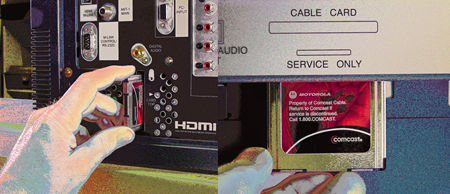 In late 2002, after extensive negotiations and meetings,manufacturers and CableLabs reached an agreement to incorporate digital cable tuners in new integrated digital TVs. The trick was to incorporate a special interface that would accept a plug-in card that would enable the TV to receive authorized digital-cable programs. The CableCARD would, it was hoped, eliminate the need for an external cable TV set-top receiver. The TV owner would rent the card from the local cable system operator; if or when the TV owner moved to another area and changed cable-service providers, he or she could simply turn in the card.
As the CableCARD program rolled out, there were plenty of questions from both consumers and cable-system operators. How well would the cards work? Could you move a card from one set to another without difficulty? Just how much set-top-box functionality could you expect from the CableCARD?
CableCARD FAQs
Perhaps the most important thing to keep in mind is that CableCARD's current implementation is strictly a one-way service. That is, it will only receive digital-cable channels sent to your TV. CableCARD can't "talk back" to your cable head end and let you order, say, video on demand, pay per view, or other interactive services. The concept is easier to understand if you think of CableCARD as a digital version of older analog cable TV services. Back in the early days of cable TV, channels you'd paid for passed through cleanly, while special filters trapped out channels you hadn't paid for. CableCARD works much the same way: It receives only those channels you've been authorized to receive. The difference is, if you elect to buy premium channels, your cable-system operator doesn't have to send out a truck to remove one or more "trap" filters near your house.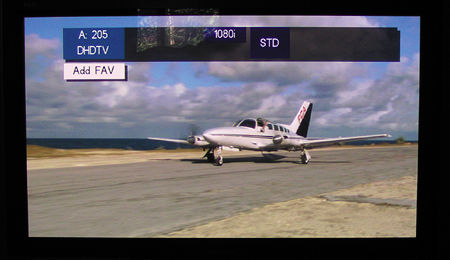 Here's how digital HD cable channel INHD appears on the TH-42PD25's screen.
To make CableCARD work, there are several "keys"—strings of numbers on the card—that the cable-system operator must have before service starts. They are: 1) the CableCARD number; 2) the Host number; 3) the Data number; and 4) the Unit Address. These four numbers are unique to each combination of card and TV, and are easily viewed in setup or service menus. In addition, each CableCARD has its own serial number, which the cable company keeps on file.
Once you've given these numbers to your cable company's customer-service department, they will authorize the card to tune in the tier of digital cable channels for which you've subscribed. As you tune in each channel, you should see its virtual channel number (the channel assigned by the cable company, not necessarily the same channel number used by, for example, a broadcast station for its over-the-air service), along with the network or service call sign or name. This basic information is part of the cable system's electronic program guide (EPG) information, although it's not the full-blown guide you'd see with a regular cable box. That form of EPG requires a two-way path, so you can receive a more detailed description of the program when you push the Info or Guide button.
As long as you maintain your current account, your CableCARD service should be something you just set and forget. If you want to add or delete services, all you have to do is call in those four number keys. If you move to a new city and have to start up service with another cable company, you simply shut down your old service and return the CableCARD before you move. The card you have won't work in another system—an entirely different card must be obtained and set up. Nor can you pull out the card and pop it into another TV at your existing location. Moving cards from one TV to another means you'll have to phone in those same four keys again, because the Host, Data, and Unit Address numbers will automatically change the minute the card is swapped.
To see how all of this worked for myself, I rounded up a couple of the latest CableCARD sets and ran my own tests here, using a digital cable feed from my local cable company, Comcast. I also took the time to check out these sets for off-air digital TV reception.
The Entrants
Panasonic sent along their TH-42PD25, a 42-inch integrated plasma TV. It has 852x480 native resolution, HDMI, RGB, and analog component inputs, and two antenna connectors: one for off-air reception, the other specifically labeled for digital cable. The CableCARD slides upside down into a slot on the rear panel.
And here's how it looks on the WD-52525 screen when tuned in.
Mitsubishi dropped off the WD-52525, a 52-inch DLP RPTV with 1280x720 native resolution and a slew of analog and digital inputs and outputs. Among the latter are an HDMI input, a pair of FireWire (IEEE1394) connectors, two antenna jacks, and slots for various SD memory cards for viewing JPEG photos.
These two sets couldn't be more different in their CableCARD implementation. The Panasonic TH-42PD25's card slot is on its rear panel, mounted vertically and parallel to the back of the panel. I like this configuration; it protects the card and keeps it out of the way. To install, you hold the card with the front facing you, upside down, and simply slide it up and into place.
The Mitsubishi WD-52525's slot is mounted on the lower rear input panel; you must insert the card into it perpendicular to the rear panel. Once in place, the card is protected by a small, ventilated grille cover that's then secured with a screw. I found this card a little tricky to slide in. You must take care to ensure that it moves easily in its guide rails; if push the card in too vigorously, you run the risk of breaking the pins.
Both sets also support terrestrial (ATSC) digital TV reception through either of their antenna inputs. Each TV has two RF antenna inputs, but digital cable and off-air signals must be connected to each set in a specific order. (This information is presented clearly in each owner's manual, so read it!)
Getting Up and Running
The Panasonic TH-42PD25's two RF inputs are labeled A and B. If you want to watch digital cable, it's always hooked up to A. B can then be used for digital off-air signals. (If you reverse these two connections, you'll be able to watch only off-air digital and analog TV channels.)
The channel scan menu for the TH-42PD25.
Once you've hooked everything up and turned on the TH-42PD25, you'll be prompted to do an off-air digital TV channel scan. (You don't need to scan for digital cable channels; your CableCARD will already have that information loaded when it is authorized.) The off-air scan takes only a minute or two, after which you're ready to watch.