Harman/Kardon AVR 8000 A/V Receiver
The new flagship from the creators of the form.
Where's the first place you look when you saddle up to the bar at your favorite watering hole? Some may say the waitress station or the sorority party in the back room; but, when it's time for business, you look at the top shelf. For it's in that rarified air that you'll find the 30-year-old Springbank, the Wild Turkey Kentucky Spirit, or the Old Rip Van Winkle. Then you scan the middle sections and find the 8-year-old Springbank, the Wild Turkey 101, or maybe some Crown Royal. Finally, it's down to the bottom shelf for the Banker's Club, the bottle that just says "whiskey," or my personal favorite: the jug with three Xs.
It's no different with A/V gear, especially A/V receivers. Every store offers a spectrum of models ranging from those that simply get you to the final effect without much grace along the way to those that offer much more in the way of style, refinement, and performance. Here, "top shelf" is replaced by "flagship"—which is too bad, as the former is simplistic and pragmatic, while the latter smacks of Madison Avenue. In any case, it's flagship receivers that I've been playing with recently, and Harman/Kardon is next up on my short list.
The new AVR 8000 replaces the AVR 7000 on H/K's top shelf with some new tricks and $1,000 added to the tab. At $2,799, the AVR 8000 is relatively reasonable for a flagship unit, compared with the mid-$4,000 Denon or Pioneer or the mid-$3,000 B&K or Integra—but it doesn't have all of their tricks, either. The features list is long, though, with Dolby Digital 5.1, EX, and Pro Logic II, plus DTS, ES Discrete and Matrix, and Neo:6. You also get Harman's LOGIC7 processing with Movie and Music modes, plus THX Ultra certification and THX post-processing, but there's no Ultra 2 processing. A 24-bit Crystal Semiconductor DSP engine crunches the numbers, and 24-bit/192-kilohertz filters on all channels handle digital-to-analog conversion. There are cool second-tier tricks, too—like the built-in SPL meter in the remote control, which is part of the EzSet automatic setup system. Two varieties of Harman's VMAx mode—which creates phantom center and surround images from the two front speakers—are aboard, as well.
The main drawback on the features side—compared with bigger-ticket flagships, as well as some other units in this price range—is H/K's decision to stick with only five amp channels, despite the fact that the AVR 8000 offers multiple 5.1-plus processing options. There are preouts for two surround back channels; however, if you want Dolby EX, DTS ES, or LOGIC7 in full form, you're going to need a couple of extra amp channels. The same goes for the second zone, which has inputs, outputs, and its own remote but no power.
There are only six digital inputs (three optical, three coax), which is light by the current standard but should accommodate most systems. A digital output of each variety is included, as well. Analog audio connections include seven stereo inputs and four outputs, plus an eight-channel direct input that bypasses all internal conversion, DSP, etc. Video gets three full-bandwidth component video ins and an out, as well as six composite and S-video inputs and four outputs of each variety. Each of the seven main channels has an input and a preout, which increases your usage options. There are three AC outlets, a 12-volt trigger, and IR jacks for remote and second-zone control. There's currently no RS-232 connection, but there are expansion slots.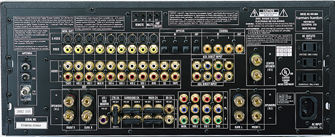 Setup was quick and easy, as it should be with a receiver. Some automatic setup systems can be dicey, but this one was only off by a decibel here or there compared with the channel levels I ultimately set using an SPL meter. The onscreen menus are comprehensive and relatively simple to negotiate. I like H/K's decision to stick with a standard remote rather than using a half-assed touchscreen model. As you'd expect from a good receiver, the AVR 8000 has several memory options and tweaks for individual inputs and processing modes.
As soon as the two-channel demo began, I could tell that the AVR 8000 retains the AVR 7000's warm, approachable sound. I particularly liked what I heard from the AVR 8000's top end. It was mellow and smooth but still full-bodied and dynamic when I asked it to be. So many receivers, especially those from the lower shelves, push the top end to create the perception of dynamics and resolution. The result is a more-aggressive, brighter sound that—when matched with more-aggressive, brighter speakers (which aren't uncommon in this price range)—can get fatiguing quickly. Unless you've got particularly exuberant speakers, you shouldn't have this problem with the AVR 8000. With Boston Acoustics' VR-M90s, the high frequencies were clearly laid-back and well controlled. With brighter, more-forward recordings, this brought the top end back to the pack and offered an improved perception of tonal balance. With more-balanced recordings, the top end had a bit less punch than some people might like, but it never reached a point where I felt it was detracting from the overall balance. With the slightly more-forward Canton M 80 DCs, balanced recordings were spot-on up top, and brighter recordings still remained well within my tolerance range (and that isn't very wide when it comes to ringing, tinniness, etc.).