Harman Kardon AVR 7300 AV Receiver
For a company that recently celebrated its 50th anniversary, Harman Kardon looks maahvelous. Consider the sleek industrial design of the company's new AVR-series receivers. With minimalist gloss-black front panels and distinctive, ring-shaped, blue-illuminated volume controls, these components look both strikingly modern and a tad retro—an appropriate synthesis coming from the company that introduced the world's first receiver back in 1954.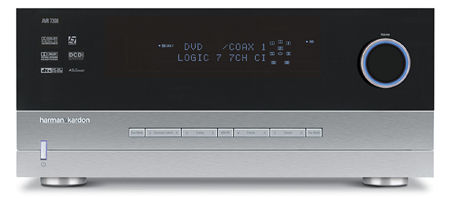 The AVR series comprises six models, ranging from the entry-level AVR 135 ($449) to the flagship AVR 7300 ($2399). The AVR 7300's feature set, specifications, and list price place this 7.1-channel model well into the upper end of the receiver market, but not ridiculously so. (Sorry, but regardless of their capabilities, $4500 über-receivers such as the Yamaha RX-Z9 or Pioneer Elite VSX-59TXi strike me as ridiculous. If you're willing to spend that kind of dough, you should be buying separates.) In any event, the AVR 7300 is more than powerful and flexible enough to serve as the centerpiece of just about any home-theater installation short of a miniature movie palace.
It's refreshing to see that HK does not fudge its amplifier specs. In surround mode, the AVR 7300's seven channels are rated at 110Wpc into 8ohm, 20Hz–20kHz, <0.07% THD, all channels driven. The 2-channel output is rated at 125Wpc, both channels driven.
HK doesn't boast much about the AVR 7300's chip set, but according to a press release, the unit "utilizes audiophile quality 24-bit/192kHz audio D/A converters and the latest Cirrus Logic 24-bit dual core DSP with 32-bit post processing."
Faroudja Inside
When I reviewed the similarly priced and positioned Sherwood Newcastle R-965 AV receiver in the December 2004 issue, I lauded it for incorporating a new "must-have" feature: a unified component-video output. "Unified" in this case means that the receiver processes incoming composite and S-video signals and spits them out in component form. Signals already in component format are passed through unchanged. Note that the Sherwood does not alter the video scan rate; e.g., 480i in, 480i out. All this rigmarole allows the receiver to be connected to the video display using a single component-video cable, which greatly simplifies overall system operation by eliminating the need to switch inputs on the TV to accommodate different sources.
The AVR 7300 performs the same unification trick as the Sherwood, but adds a new wrinkle: incoming 480i video signals are upconverted to 480p using the renowned Faroudja DCDi video processor. Signals other than 480i (480p, 720p, 1080i) are passed through unchanged. You obviously need a digital-ready or HD-capable display for this to be of use, but I strongly suspect that most Ultimate AV readers have long since upgraded to such a display. (If not, what are you waiting for?)
As much as I appreciate the convenience of unified component output, I was initially a bit skeptical about the utility of incorporating a video processor into the receiver's signal path. After all, many current DVD players and video displays—including the V, Inc. Vizio RP56 DLP rear-projection TV I'm using right now—already have Faroudja DCDi or another excellent video processor aboard. But I'm a convert now, and here's why: The AVR 7300's video processor is configurable per input.
Basically, the HK's configurable processor enables you to dial in each video source in your system to provide optimal results with your particular video display. Every AV input can have different settings for Video Noise Reduction, Cross-Color Suppression, DCDi Interpolation, Film Mode Detection, Film Mode Edit Detection, Fleshtone Noise Reduction, Composite Video Enhancement, VCR SyncTime Enhancement, Output Aspect Ratio, and Brightness, Contrast, and Saturation. Lest you become overwhelmed by all these options, each input can be assigned a preset Video Source Type, which provides default settings optimized for DVD players, VCRs, analog cable, digital cable, analog satellite, digital satellite, and analog and digital cameras. To give just one example, the VCR Source Type switches the Video Noise Reduction on, while the DVD Source Type turns it off.
In addition to the individual video parameters, there's also a global Display Type setting, which, according to the manual, "primarily changes the video enhancement level and output aspect ratio." Options include CRT, Projector, Plasma, DLP, and LCD.
Most of the video parameters have very subtle effects; you can experiment with them to your heart's content without wrecking the picture. There's one exception: the Composite Video Enhancement function acts like a video display's sharpness control, producing artificial-looking white edges and greatly increasing the visibility of digital picture artifacts and noise. Switching this parameter off resulted in a dramatic improvement in picture quality on all sources, whether composite, S-video, or component video.
I spent many hours comparing the AVR 7300's Faroudja-processed 480p output with the (nonadjustable) Faroudja processor built into my Vizio RP56 DLP display. I even compared the HK's 480p output with the direct 480p output of my Sony DVP-NS700P progressive-scan DVD player. As long as the AVR 7300's Composite Video Enhancement function was disengaged as described above, there was no comparison—the HK's 480p processed picture was obviously quieter and more filmlike than either of the other processors, and its color balance was better suited to my DLP display, with more natural reds and greens. Even the digital artifacts and mosquito noise inherent in the 480i S-video output of my Sony DirecTV receiver-recorder were much less apparent when processed and upconverted by the HK.
While video quality may not be the first thing you think of when shopping for an AV receiver, the video output of the AVR 7300 did look great.
You're Surrounded!
As you'd expect for $2399, it has more surround modes than you can shake a memory stick at. The modes are organized into groups. The Dolby Surround group includes Digital and Digital EX, Pro Logic II and IIx (Movie and Music), Virtual Speaker, and Headphone. The DTS group includes 5.1, ES Matrix, ES Discrete, and Neo:6 (Cinema and Music).
Two-channel or matrixed surround sources can be enhanced using HK's proprietary Logic 7 and VMAx modes. According to HK, "VMAx delivers a three-dimensional soundspace with the illusion of a 'phantom speakers' at the center and surround positions" when only two front channel speakers are available. Theater and Hall DSP soundfields are also on tap for those brave enough to use them. The AVR 7300 also supports HDCD-encoded CDs, and will even decode MP3s if you connect a coaxial cable from many computer's soundcards to one of the 7300's digital inputs. Last but not least, the Surround Off (Stereo) mode bypasses all digital processing, including bass management, and sends the input signal directly to the volume control. Alternately, the Surround Off+DSP mode digitizes the signal and applies bass management.
Speaking of bass management, the AVR 7300's is supremely flexible. You can have a single, global speaker configuration, or you can store different speaker combinations for each input. This enables you to, say, run the front speakers full-range without a subwoofer when using the CD input for music sources, and rolled-off with a subwoofer when using the DVD input. Even better, HK's Quadruple Crossover system can be used to tailor the crossover point for each speaker group (Front L/R, Center, Surround, Surround Back, LFE). Available lowpass frequencies are 40, 60, 80, 100, 120, and 200Hz. With so many options on tap, it's hard to imagine a speaker configuration that the AVR 7300 can't accommodate.
Inside Story
Compared to the elegant, PC-like architecture of the Sherwood Newcastle R-965, the AVR 7300's internal construction is conventional—and crowded. Two huge aluminum heatsinks span the entire depth of the cabinet on each side, leaving a center aisle for a multilevel stack of circuit boards and the power supply, with its massive 6-inch-diameter toroidal transformer and twin 39,000F filter capacitors.
A cooling fan was not apparent when I did my usual internal inspection prior to installing the AVR 7300 in my rack, and I didn't think to delve deeper looking for one. But as soon as I powered up the unit, a fan—perhaps a tiny chip-cooling module buried somewhere inside the stack of circuit boards?—made its whirring presence known. This was an unpleasant surprise, as the press release on HK's website specifically states that "a noisy cooling fan [is not required] under even the most demanding operational conditions." Be that as it may, the fan in my review sample was annoyingly audible during moments of program silence.
Connecting Point
One look at the AVR 7300's rear panel and you know this baby is well connected. There are four AV inputs plus a dedicated DVD input. The AV inputs are labeled Video 1 through Video 4 by default, but they can be renamed to match your source components. All of these inputs include composite and S-video connectors; the Video 1 and Video 2 inputs have corresponding AV outputs as well for recording devices such as VCRs or DVD recorders. There are three assignable component-video inputs, which Harman Kardon claims are wide bandwidth (100MHz) and therefore HDTV-compatible.