Hail! Hail! Rock 'N' Roll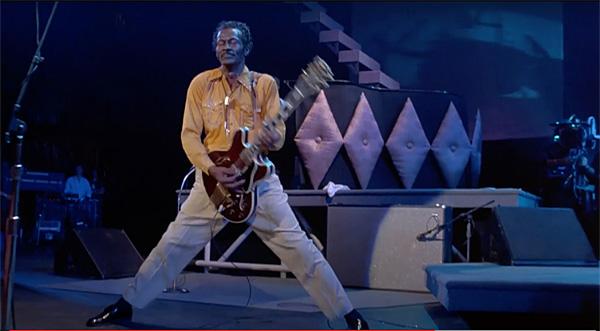 Hail! Hail! Rock 'N' Roll
, now available on Blu-ray for the first time via Shout Select, I'm reminded of how captivating, creative, and downright business-savvy the pioneering, guitar-playing singer/ songwriter actually was. In
Hail! Hail!
, Hackford's always on-the-spot lens follows Rolling Stones guitarist and early Berry acolyte Keith Richards' holy mission to celebrate his hero's 60th birthday with an all-star backing band at St. Louis' fabled Fabulous Fox Theatre. Tense moments ensue during a tight-quartered rehearsal of "Carol," with Berry negating some of Richards' suggestions outright—Keef's eye-daggers after turning his back following one particularly intense exchange are priceless—but once the pair achieve the correct intuitive guitar-line interweaving, all is essentially well.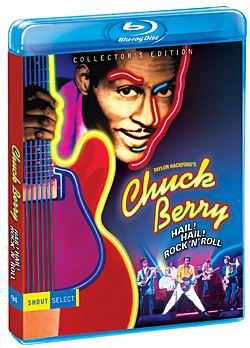 The doc's original filmic quality remains intact yet better defined on Blu-ray than the 2006 DVD. Shades of red are well-defined when Berry visits the rundown Cosmopolitan Club, the shiny cherry-cranberry hue of his boat-length car contrasting with the duller crimson of the corner stop sign and that of the dilapidated, fading bricks of the club's exterior. Elsewhere, his striking burgundy-champagne jacket contrasts well with the intricate detail work seen on the lavish column carvings located within the lobby of the Fox Theatre.
It's a pure joy watching and listening to all the concert segments. The surround mix conveys just the right amount of ambience, with crowd noise swelling in the rears whenever Berry beckons the audience to vocally respond to his actions. Berry is both animated and charismatic whenever he sings and plays the lead and rhythm guitar lines that are the literal bedrock of the last half-century-plus of popular music. Not only that, but he's an amazing coach and cheerleader whenever he points at Richards to let loose with a lead or entices Eric Clapton to "take another one!" after his initial blazing solo on "Wee Wee Hours."
Extras, culled from what Hackford compiled for the 2006 DVD, are bountiful and clock in at roughly over 4 hours. A section called "Chuckisms" features Berry proffering extended original poetic readings seemingly off the top of his head, while a sitdown between Berry and creative consultant Robbie Robertson as they pore over his personal scrapbook together divulges details only a fellow musician could garner.
BLU-RAY
STUDIO: Shout Select, 1987/2019
ASPECT RATIO: 1.85:1
AUDIO FORMAT: DTS-HD Master Audio 5.1
LENGTH: 120 mins.
DIRECTOR: Taylor Hackford
STARRING: Chuck Berry, Keith Richards, Johnnie Johnson, Eric Clapton, Robert Cray, Julian Lennon, Linda Ronstadt, Etta James

It would be easy to characterize Chuck Berry, who passed away at age 90 in 2017, as one cantankerously acrimonious fellow, but after revisiting Taylor Hackford's astute 1987 documentary