Google Scan and Match for Google Play Music launches in the US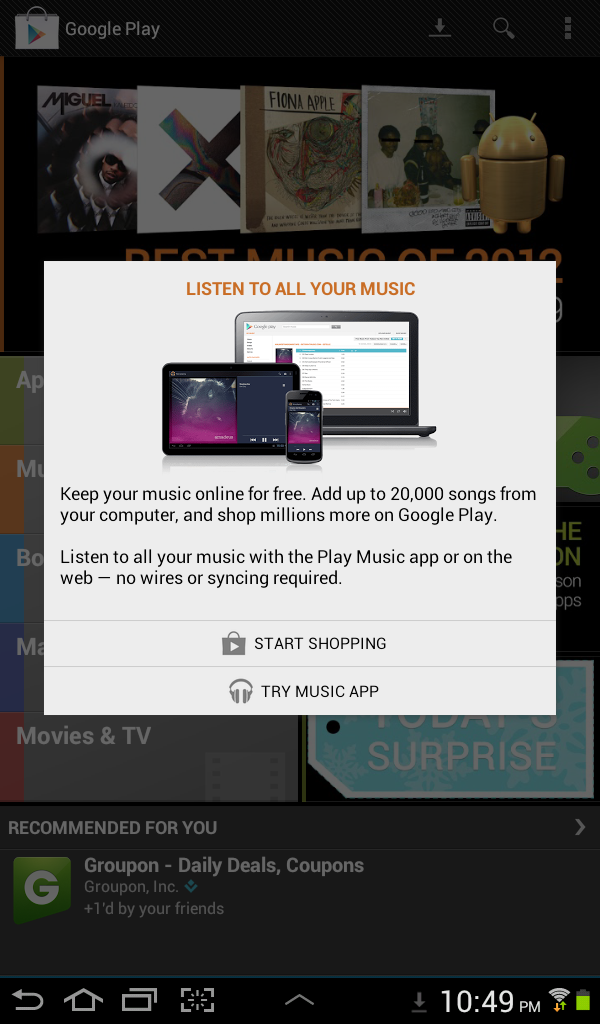 The Google Play Music Manager has been around for quite a while. Upload and store up to 20,000 songs in the cloud, so you can play them from any connected Android device or computer, anywhere. The problem was that you had to go through and upload each and every file. However, Google has just launched a new scan and match feature in the U.S.
(Europe's been online for a few weeks) that will automatically match songs in your library and let you stream them at 356kbs, even if your own files were lower bitrates. Sounds a lot like the services already provided by Amazon and Apple, right? Well, for those services, you have to pay $25/year. Google is free. We love Google.
From the Google Play website: "Add up to 20,000 songs from your music collection to Google Play and stream it to your Android devices and your computer, anywhere you go.Our new music matching feature gets your songs into your online music library on Google Play much faster. We'll scan your collection and quickly rebuild it in the cloud - all for free. And we'll stream your music back to you at up to 320 kbps."
Songs that can't be matched with existing files already in the cloud will be uploaded at their current bitrate, and count against the 20,000 song limit. This change won't happen overnight for existing Google Play Music users; over the next few months, Google will automatically scan and match your existing library to Google's ever-expanding digital catalog. This means you don't have to re-upload your files to get them at the higher bitrate. Just sit back and enjoy. It should be noted that the Apple and Amazon services will upgrade your library to higher-bitrate files that you can then download again (at 256 kbps); Google will only let you stream the 320 kbps files. From early adapters, it appears there might be a flaw – it can't differentiate between clean and explicit versions – it matches them to the clean version. Your mom will be pleased.
How can Google afford to offer this for free? Instead of charging users an annual fee, Google will pay the music labels up front - Google does nothing to confirm that the songs are legally owned, It is assumed that the songs were already legally purchased by the users. Why would they offer this for free? Simple. They hope that once your library is firmly and happily in the Google cloud, you'll continue to add to it by buying more songs from the Google Music service.
Whatever you want to call it: server, cloud, storage, let's all agree not call it a "locker", okay? That just brings back really bad high-school flashbacks.