A Garden Oasis in the Heart of Pittsburgh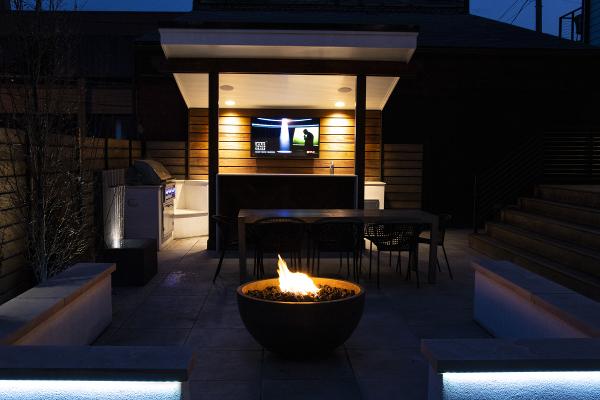 Nestled in Pittsburgh's North Side is a beautifully renovated row house with four bedrooms, two-and-a-half baths, and three outdoor entertainment spaces, including two private balconies offering stunning views of the
City of Bridges
' skyline. As cool as the balconies are, the 2,000 square-foot courtyard is what really sells this place. It's a veritable oasis in the heart of the city, complete with tasteful landscaping and a small lawn, a spacious eating/dining area with a large firepit, and a sheltered "sports bar" area featuring a grille and wall-mounted TV with its own dedicated sound system. When it's time to get the party started, a second sound system concealed in the landscaping brings the courtyard to life, capping off what adds up to a magnificent outdoor entertainment space.
"The outdoor area was the second phase of an extensive row house renovation," explains Tom Pieracki, president and founder of Simply Automated (SA) and Luma Lighting, Pittsburgh-based sister companies specializing in smart technology and custom integration. "The client is a developer who had a vision to create a high-end, fully automated vacation home primarily used for Airbnb rental." SA was contracted to design and install an elaborate whole-house system featuring automated A/V entertainment and lighting, which extended to the outdoor space.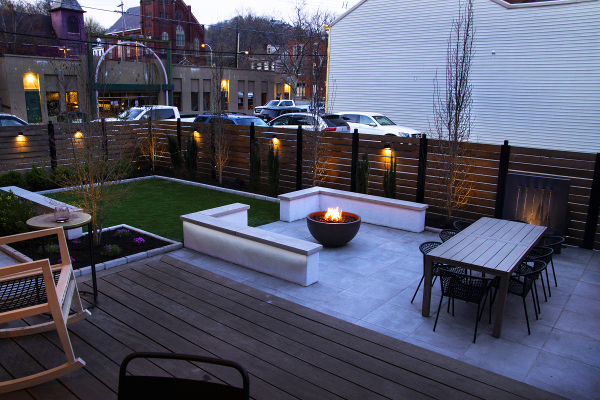 "We were fortunate to start with a clean slate for the outdoor area," Pieracki says. The owner came up with a general design and SA worked up a plan to integrate audio and custom lighting throughout the space and bring video entertainment outdoors.
The main audio system is a 70-volt setup comprising four GO6 satellites and a GO10SW in-ground subwoofer from Paradigm's Garden Oasis Series, which Pieracki says "provides great coverage throughout the space." SA worked with the landscape contractor to bury conduit for the speaker wiring. "This greatly simplified the installation as we weren't fighting with finished landscape and hardscape," he says. "We've found that thinking ahead and working with all parties involved on these types of installations can limit potential issues, which ultimately lead to a loss of time and money for all."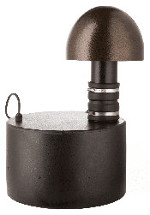 Each GO6 is a fully adjustable, stalk-mounted speaker combining a 6-inch midrange driver with a 0.75-inch tweeter in a bronze-colored UV/water-resistant "PolyGlass" enclosure designed to blend into landscaping. The GO10SW (shown at right) picks up where the satellites leave off, using a fully concealed 10-inch woofer to supply bass down to an earth-shaking 28 Hz. The lows vent through a mushroom-capped tube that protrudes from the ground, also finished in bronze so as to remain inconspicuous.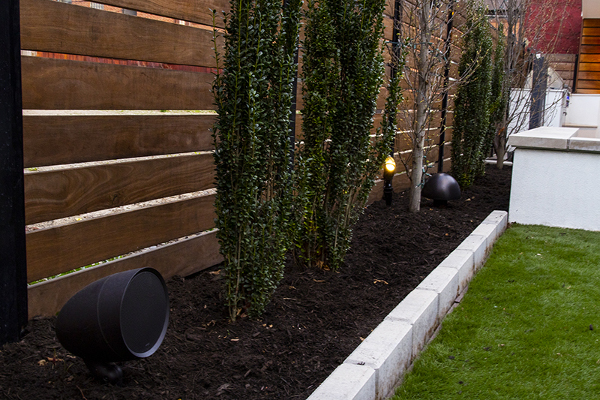 All seven speakers are powered by a Crown CDi1000 amplifier located in the home's main A/V rack, configured for 70-volt operation and rated to deliver 2 x 500 watts of power. "We sourced the amplifier from Paradigm and it arrived pre-loaded with correct settings to ensure a great listening experience," Pieracki observes. The amplifier is located in one of the two Strong FS Series racks in the basement that house an elaborate yet simple-to-operate Control4 system for A/V distribution, security, and lighting with automated window treatments.
To give you an idea of the caliber of the outdoor setup, if you were to buy the speakers off the shelf, the GO10SW subwoofer would set you back $1,800 and the GO6 satellites would cost you $600 apiece. Add to that another $1,200 for the Crown amplifier and you're looking at $5,400 just for the equipment.
Pergola Paradise
Adjacent to the main patio is the "sports bar" area situated beneath a sloping pergola — in this case, one with a solid roof to protect the space from the elements and provide a place to install a pair of Bowers & Wilkins Marine 6 outdoor speakers, which can be played on their own or integrated with Paradigm speakers to create a full-on party mode. Each speaker is a weatherproof coaxial design with a 1-inch tweeter suspended over a 6-inch woofer that sits flush in the pergola's ceiling between recessed lights; the list price for a pair: $700.
Powered by a Triad amp in the main rack, the B&W speakers provide a substantial upgrade in sound for a 55-inch SunBrite Signature Series 4K/Ultra HDTV mounted on the shiplap wall behind the bar. The TV is encased in durable aluminum and built to withstand the elements year-round, including temperatures extremes between –24° and 122° F. The display, which lists for $3,500, supports high dynamic range (HDR) and is equipped with an anti-glare screen optimized for use in daylight with partial (or filtered) exposure to the sun.
To get video out to the courtyard, the pros at SA tapped into the Just Add Power video-over-IP system that distributes video throughout the home via Cat6 cable. Doing so, provides ready access to cable TV and content streamed over Roku and Apple TV.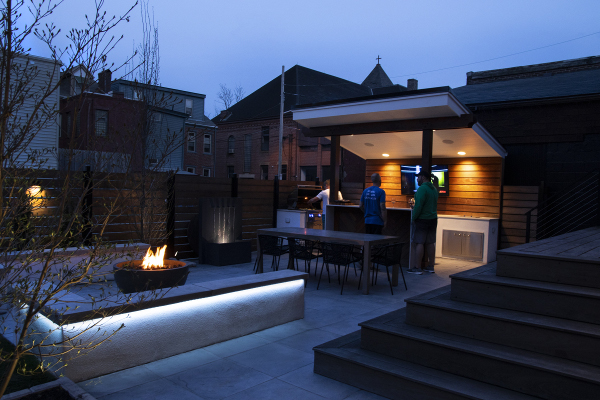 Like the A/V systems in the house, outdoor entertainment can be managed using Control4's mobile app or an in-wall touchscreen controller next to the sliding doors out to the patio; both provide full control over audio and video. Going a step further and making system control super convenient, SA also created a series of media and lighting "scenes" that summon a particular mood at the push of a button.
When the sun goes down, Holm landscape lighting creates a relaxed mood punctuated with low-voltage LED strip lighting from Rimikon. The outdoor lighting ties into the main Control4 system inside the home.
When asked about the brands SA used to create this outdoor oasis, Pieracki responds, "We make it a point to only work with the best in the industry. We design systems based on scope and budget and choose the right solution to achieve the end result our clients expect."
No question, the design and installation team at Simply Automated nailed this project, delivering an urban oasis in with an all-in cost just shy of $25,000 in a section of Pittsburgh that's home to the inimitable Andy Warhol Museum, Carnegie Science Center, and Heinz Field, stomping ground of the Steelers. If you're visiting the great city of Pittsburgh and need a place to stay, you might want to check the local Airbnb listings.
Equipment List
• Sunbrite SB-S2-55-4K-BL 55-inch 4K/UHD outdoor TV with all-weather TV mount and dust cover
• Paradigm Garden Oasis GO6 speakers (4)
• Paradigm Garden Oasis GO10 in-ground subwoofer (1)
• Crown CDi1000 2 x 500-watt amplifier (1)
• Bowers & Wilkins Marine 6 outdoor speakers (2)
• Ice Cable Systems speaker wire and Cat6 cable
• Control4 Ea3 controller
• Holm landscape lighting
• Rimikon tape lighting