Gameboy Micro
Game Boy Micro + Game Boy Video = The world's smallest movie player?
I've been intending for some time to write about at least one of the many developments on the Nintendo handheld gaming front, but what would be my Home Theater hook? The Game Boy Advance generation eventually offered Game Boy Advance Video, which provides playback of third-party content on little Nintendo flash memory cartridges, but these were typically just episodes of recent, kid-only fare from Nicktoons and Disney. And then DreamWorks surprised many folks, myself included, by licensing three of their animated feature films to Majesco Entertainment, the major player in GBA Video. So, I finally had my software, but what about hardware?
Announced at E3 2005, the Game Boy micro is the smallest Game Boy device of all time, yet this newest addition to the family also boasts their best-ever screen—it's sharp, colorful and remarkably bright. Appealing to the style savvy, this sexy little number commands a premium above the larger, older, clamshell-style Game Boy Advance SP (successor to the original, horizontal Game Boy Advance), setting back the gotta-have-it crowd a cool $90. A rechargeable battery is built in, and the micro includes an AC adapter, along with a drawstring cloth pouch, two alternate faceplates, and a faceplate ejector tool, which I initially mistook for a guitar pick. Another plus for the GB micro is that it also accepts standard stereo headphones, although the Majesco/DreamWorks titles actually arrive packed with a complimentary pair of earbuds for the Game Boy Advance, with the necessary proprietary plug. The individual movie titles; Shrek, Shrek 2, and Shark Tale; cost $20 each, while a Shrek/Shark Tale two-pack sells for $30.
Sure, you might dismiss these three as mere "cartoons" on the surface, but they are feature films that young and old can truly enjoy and are hence cause for celebration in our pants pockets. The video cartridge offers user-adjustable brightness and DVD-like controls with animated menus and a handy button lock to avoid accidental interruptions. Since there are no moving parts, the experience is also skip free, even during active use. Although color was excellent, heavy compression on Shrek resulted in some choppy playback, owing to the 90 minutes squeezed into what I assume is a 32-megabyte flash memory wafer, the standard for GBA cartridges.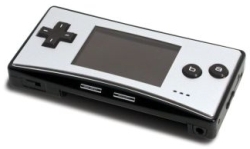 I have no way of actually measuring this, since Nintendo referred us to Majesco, and Majesco would not answer our tech questions. We do know that the Game Boy Advance Video format is a proprietary encoding to fit these large video files into extremely limited space. While you can also play them on the original Game Boy Advance, the Game Boy Advance SP, and the recent Nintendo DS, they will not work with the Game Boy Player accessory for the GameCube console, which would otherwise allow GBA movie viewing on a connected TV.
Oh, and the Game Boy micro also plays the vast array of amazing Game Boy Advance games.

SPONSORED VIDEO