Former Soccer Pro Crowdfunds Unique Log Speaker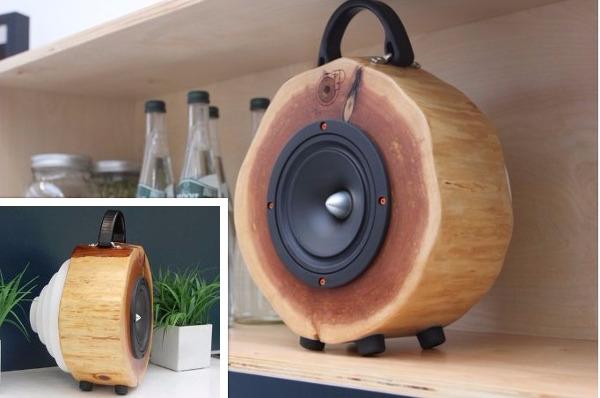 Vancouver, Canada-based Portmanteau Stereo Co. has successfully crowdfunded its Rockit Log line of portable speakers, exceeding its $50,000 Kickstarter goal with 11 days to go.
Co-founded in 2014 by former professional soccer player Jay DeMerit, Portmanteau is offering a unique line of battery-powered Bluetooth speakers crafted from wood abandoned by logging operations in British Columbia. The speakers are made of the same "soft tone" woods used to make guitars and violins: western cedar, fir, and hemlock.
You can choose from a number of staple designs, design your own, or order one of 10 limited-edition speakers designed and autographed by sports celebrities, including DeMerit himself. About 12-inches in diameter, all models feature a "grab and go" handle, 6-inch full-range speaker, 60-watt amplifier, 10-hour battery, minjack aux input, and USB charging port. The approximate weight of each speaker is 12 pounds.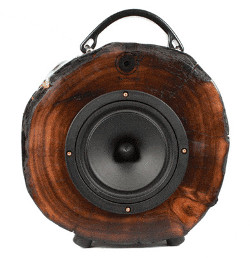 Here's how Portmanteau describes the limited-edition Jay DeMerit speaker on its Kickstarter page:
The burn of the grain represents the phoenix rising from the flames, as Jay had to do through many challenges and adversities he has faced to make it in his 10 year professional career. The black on black cone and speaker adds a sleekness to the design and the gold screws represent the diamonds in the rough that Jay is now trying to find and polish at his Rise & Shine youth mentorship/camp-out soccer camps that he has started for teenagers in the mountains of Pemberton, BC. After Kickstarter, proceeds from every "Rise and Shine" log will be donated to the Rise and Shine Foundation, helping people to Dream Big and find their passions through unique experiences and mentorship.
Rockit Log retail prices are $449 and $499 with delivery slated for May. A variety of pledge options are offered on the Kickstarter page.
Portmanteau also sells one-of-a-kind line portable speaker systems housed in vintage portmanteaus (leather suitcases).
For more information, visit kickstarter.com.
LATEST VIDEO