Focal Offering Sib Evo Atmos Sub/Sat Systems
Focal, the respected French speaker and headphone manufacturer, has updated its affordable Sib satellite loudspeaker line to to embrace the Dolby Atmos-enlightened among us.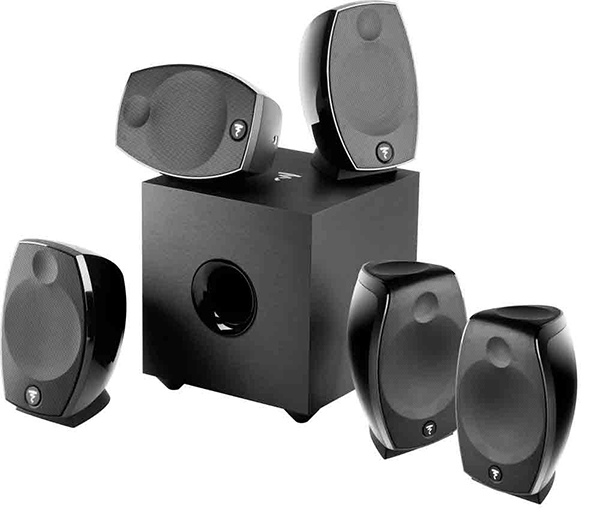 Three different speaker models are being offered in five different system configurations, the company says. The Sib Evo satellite is the latest take on the classic Sib satellite launched in 2002, and features a 2-way bass reflex ABS molded cabinet with a black matte-and-lacquered finish housing a 5-inch Polyflex woofer and 1-inch silk dome tweeter. The scrappy little speaker is said to deliver bass down to 65 Hz at -3dB. The new Sib Evo Dolby Atmos satellite adds to this driver complement an integrated 3-inch, upfiring Polyflex driver for reproducing Atmos or DTS:X height effects using the ceiling-bounce technique.
Meanwhile, a new Cub Evo powered subwoofer features an 8-inch downfiring Polyflex woofer in a front-ported MDF box with black matte finish. It offers the usual controls (crossover, phase, on/off with auto power option) and an LFE input. It's rated down to 35 Hz at -3dB.
System configurations and pricing are below, and the new models will be available in August. While a 5.1.2 Atmos system is available for outfitting a classic 5.1 system with a single pair of Atmos satellites up front, Focal confirmed for Sound & Vision that no 5.1.4 configuration is offered. Customers hoping to outfit a full 5.1.4 system—both Dolby and Sound & Vision's preferred set-up—must purchase the 5.1.2 Atmos system and two extra Evo Dolby Atmos speakers, resulting in two additional non-Atmos satellites that could then be repurposed to fill out a 7.1.4 system with back surrounds, or perhaps used as second zone speakers in another room. Alternatively, pairs of each satellite type can be purchased separately along with the sub, but this approach is no more cost effective and results in one speaker left over instead of two—a less desirable scenario. All prices are US dollars.
Sib Evo Dolby Atmos 5.1.2 system Black - $1,299
Five Sib Evo bookshelf speakers, two Sib Evo Dolby Atmos-enabled bookshelf speakers, Sib Cub Evo subwoofer
Sib Evo 5.1 Black - $999
Five Sib Evo bookshelf speakers , Sib Cub Evo subwoofer
Sib Evo Dolby Atmos 2.0 system - $599
Two Sib Evo Dolby Atmos-enabled bookshelf speakers
Sib Evo 2.0 - $299
Two Sib Evo bookshelf speakers
Cub Evo Subwoofer - $379
The 2.0 packs are supplied with a soft base. The 5.1 and 5.1.2 packs are supplied with a soft base and two wall-mounts. A pack of two Hip Evo stands is available for $199.