Flashback 2001: Introducing DVD-Audio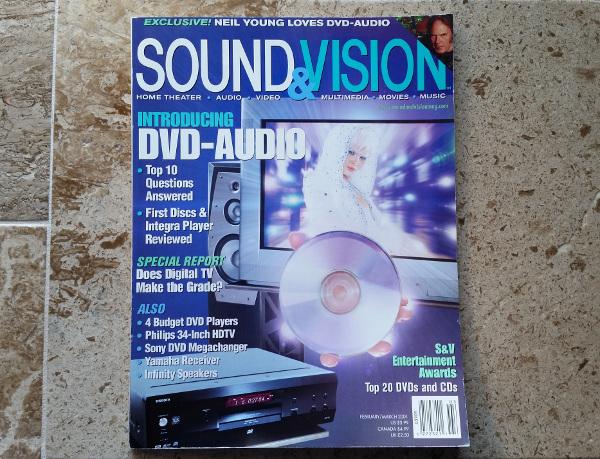 DVD-Audio was the big story in our February/March 2000 issue, which devoted more than a dozen pages to the launch of a promising new multichannel music format hailed by Neil Young and other artists as audio's second coming. Things didn't quite turn out as planned.
From our 2012 article, "Flops: 14 Formats and Technologies that Couldn't Quite Hang On":
SACD started life in the fall of 1999 as a tweak format with the launch of a $5,000 Sony player and 19 (mostly classical) Sony Music titles priced at $25 each. Although the format was capable of multichannel surround sound, early players and discs played only stereo SACDs and regular CDs; multichannel players and discs would come a couple of years later. After several false starts, DVD-Audio stumbled into the market a year later, led by a $1,000 Panasonic player and a small, eclectic mix of pop, jazz, and classical titles, also priced around $25. Players were touted as universal machines that played CDs, regular DVDs, and the new, high-res DVD-Audio discs, which served up music mixed for 5.1-channel surround sound, DVD-like menus, and multimedia extras such as videos, interviews, lyrics, and photos. A Warner Music exec who was at the forefront of the launch said DVD-Audio would be looked back on as "a milestone similar to the move from mono to stereo." Actually, it would be all but forgotten before the end of the decade.