Straight Steer on Stereo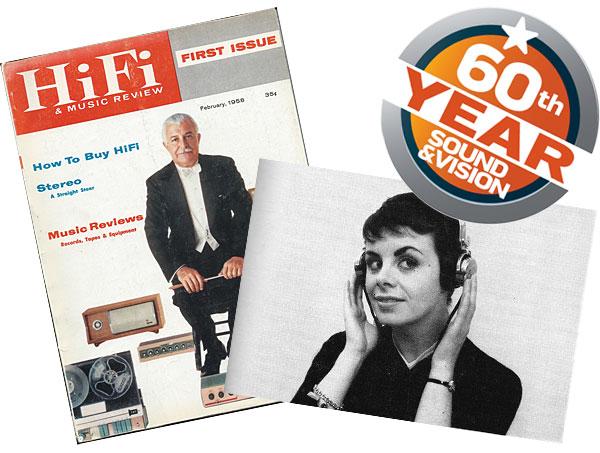 In celebration of our 60th anniversary, Sound & Vision will be peeking back throughout this year at our past six decades of coverage. Given our long tenure, our editorial predecessors have reported on most of the seminal inventions in the history of consumer audio and video technology and have offered up shopping advice, which, to varying degrees, can be viewed today as either timeless or charmingly outdated. As much as possible, we will reproduce articles and reviews as they appeared, with the unedited text mated alongside the original illustrations. We'll be laying out these articles in our modern format for readability but will include scans of the cover and original page layouts to show how these would have appeared if you had picked up that issue at the time of publication. I'll warn our readers now that some of what you'll see will seem quaint or even politically incorrect by today's standards—as an example, the photo caption from the article below that refers to the model's "pretty eyes." (Female models were frequently used for features in the early days to spice things up for the predominantly male audience.) Times have changed, of course, but in keeping to an honest rendering of our past, we hope to give readers a true sense of from where we evolved, and what it might have been like to be an enthusiast in those days.
The first couple of years following our founding in February 1958 as Hifi & Music Review were largely consumed with the roll-out of the industry's first two-channel stereo gear. Equipment coverage and advertising from those days suggests that there was more than one way to skin this cat. There were a variety of new cutting-edge stereo preamps and integrated amplifiers offered up, some of which included separate tone controls for each channel to account for the mismatch of frequency response between your pre-existing speaker and whatever bargain-basement special you might have picked up to transform your hopelessly passé mono rig to stereo. If you weren't ready to take that step, there were less expensive converter boxes that combined a stereo preamp with a singular power amp channel; you could connect your stereo source and one of your two speakers, then send the preamp-out signal for the second channel to your existing mono amplifier to power your legacy speaker.
But of course, before you could do this, you had to understand what stereo really is and why you want it. This article, taken from our very first issue, was intended to clarify for readers what this brave new world of hi-fi was all about.—Rob Sabin