Flashback 1958: If Not for Charles...
For decades, the cartoons of Charles Rodrigues poked fun at us and the hobby we otherwise take all too seriously.
In the very first issue of HiFi & Music Review in 1958, the magazine that became Stereo Review and then Sound & Vision, a gifted 31-year-old artist named Charles Rodrigues contributed the first in a string of cartoons that both celebrated, and made fun of, that odd bird known as the audiophile. It ended up being a long run that lasted more than 40 years. Rodrigues's humorous insight into the audiophile's mind and his world (the hobby remains, to this day, predominantly male), proved the perfect counterpoint to the dry, technical business of reviewing components, and what Rodrigues saw as the ever-rising prices of gear and increasingly bizarre claims made by manufacturers as the years went on.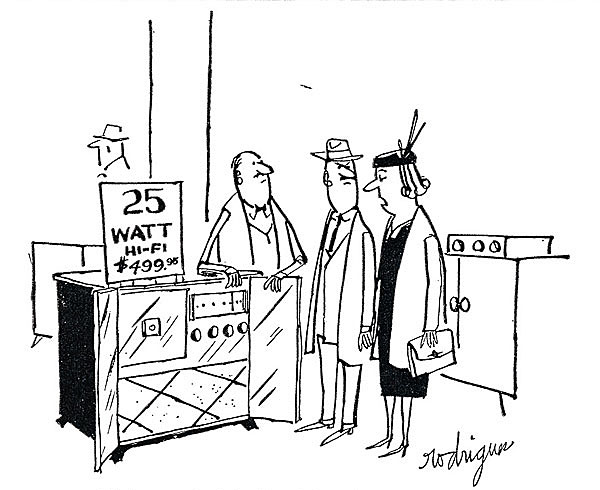 His themes covered wide ground. Audio salesmen were a frequent target, a breed whom he painted as a low life form, willing to make any claim at any time in the name of a sale. Many of his funniest cartoons took place at home, where there was inevitably depicted a recalcitrant wife railing against the huge rack of gear and giant speakers in her living room, or the prices her husband was willing to pay to acquire them.
Rodrigues loved poking fun at format wars (he lived through several) and saw audiophiles as a thoroughly obsessed lot that would go to no end to extract better sound from their gear. He had a keen ear for audiophile lingo and enough knowledge of specifications and features to cast many an insider tech joke. Indeed, all of Rodrigues's cartoons for this magazine were insider jokes to our quite specific audience. As far as I know, none of the competing publications through the years regularly featured cartoons or had anyone quite like Charles Rodrigues.
Rodrigues was of Portugese-American descent, born in 1926, and was himself a family man, living in the suburbs outside of Cape Cod, Massachusetts with his wife Lorraine till his passing in 2004. They raised two daughters. He was a World War II vet and went to art school on the G.I. Bill. According to former Stereo Review Editor-in-Chief William Livingstone, who wrote the foreward for a 1988 collection of Rodrigues's work titled Total Harmonic Distortion, Rodrigues was a nocturne who slept during the day and worked all night for much of his life, listening to classical music on FM as the hours ticked by.
Classical composers did turn up frequently in his work, as did his disdain for the dissonance of the modernists. Elliott Carter was attacked so often during Livingston's 22-year tenure, he wrote, that he had to warn the artist that his running gags were starting to look like a vendetta. Rodrigues, Livingston said, traced his ability to get inside the audiophile head to his days playing with crystal radios as a kid and an interest in shortwave radio, but he apparently remained just outside the lines of the hardcore audio hobby, operating with an observational dispassion that undoubtedly served him—and us—very, very well.