Fall from Grace: CDs Relegated to the Bargain Bin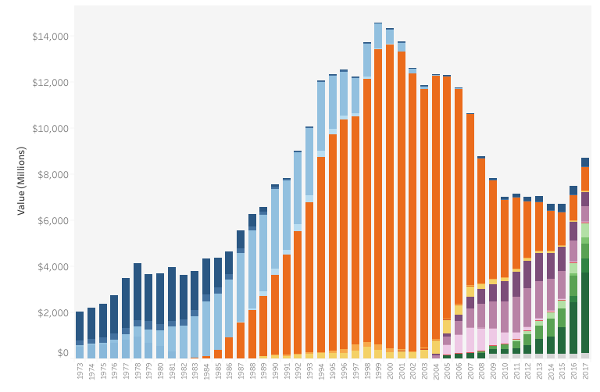 When we heard back in February that Best Buy was planning to drop CDs, we weren't surprised. It's now official: Best Buy has removed CDs altogether from its website and "de-emphasized" the category in its stores. In other words, CDs have been relegated to those chaotic bargain bins.
The orange segments in the bar chart shown here tell the story of the shiny disc that captured the imagination of music lovers 35 years ago.
The CD has been in free fall since 2000, when sales peaked at 942.5 units, or $13.2 billion in revenue, and CD represented a whopping 87 percent share of all music sales. Today, with annual sales of less than 88 million units, CD sales are only 9 percent of what they were 10 years ago — and still falling — having been displaced most recently by streaming (green in the chart).
"Does anybody remember the last time they bought a CD?" Best Buy CEO Hubert Joly asked rhetorically when he confirmed the fate of the CD at the nation's largest consumer electronics retailer earlier this year.
Although CD has lost its luster, the category is still a billion dollar business. At the Electric Fetus in Minneapolis, CDs account for half of music sales and vinyl the other half, according to a recent story in the StarTribune. Industry-wide, though, vinyl sales are still quite a bit smaller than CD sales, accounting for 15.6 million units, or $388.5 million in revenue last year.
Cara Duckworth, spokeswoman for the Recording Industry Association of America (RIAA) was quick to point out that a billion dollar business is "nothing to shake a stick at." As she explained to the StarTribune, "There are still fans who love CDs and want to continue to have that tactile experience of holding a physical product and reading through the liner notes, the cover art, and all of that."
Related: