Experts' Guide to Great Gifts '08 Page 2
STEP RIGHT UP TO THE BOX OFFICE
The boxed-set office, that is. Yes, we're all full of holiday gear, but what to play on it? Ken Richardson gathers some of the year's most eye-catching packages. This page, DVDs. That page, CDs.
A CHRISTMAS STORY: ULTIMATE COLLECTOR'S EDITION
(Warner, 2 DVDs, $40, or 1 Blu-ray Disc, $50; warnervideo.com)
Jean Shepherd would be dazed and amused if he were here to see how the 1983 movie based on his stories (and featuring him as narrator) has become even more of a modern Yuletide classic in the past 10 years. Marking the flick's 25th anniversary, the Ultimate Collector's Edition DVD takes the (freshly encased) two-disc Special Edition from 2003 -- with a commentary by Peter "Ralphie" Billingsley and director Bob Clark plus readings by Shepherd -- and adds a cookbook, an apron, and five cookie cutters, all inside a holiday cookie tin. The Blu-ray Disc version, which comes in a different tin, takes the 2006 single BD and instead adds a Leg Lamp light strand.
COLUMBIA PICTURES: THE BEST PICTURE COLLECTION
(Sony, 14 DVDs, $136; sonypictures.com/homevideo)
And the Oscar went to . . . these 11 films that, span-ning 6 decades, each won the ultimate Academy Award for Columbia. Beginning with It Happened One Night in 1934, the lineup continues with You Can't Take It with You, All the King's Men, From Here to Eternity, On the Waterfront, The Bridge on the River Kwai (2 discs), Lawrence of Arabia (2 discs), A Man for All Seasons, Oliver!, and Kramer vs. Kramer, concluding with 1982's Gandhi (2 discs). Among the more than 8 hours of extras is a Gandhi commentary by director Richard Attenborough.
(Fox/MGM, 61 DVDs, $500; foxstore.com)
Yes, these 50 musicals include some Elvis Presley movies, but the vaults of 20th Century Fox and Metro-Goldwyn-Mayer also provide many true clas-sics -- including Oklahoma!, Carousel, The King and I, South Pacific, West Side Story, and The Sound of Music, each in 2-disc editions. Other doubles bring us closer to today, from Can-Can, Chitty Chitty Bang Bang, and New York, New York to The Rocky Horror Picture Show and 2001's Moulin Rouge! Also featuring single-disc titles like Fiddler on the Roof, the box has 50 postcard reproductions of the original theatrical one-sheets.
GRATEFUL DEAD: WINTERLAND 1973: THE COMPLETE RECORDINGS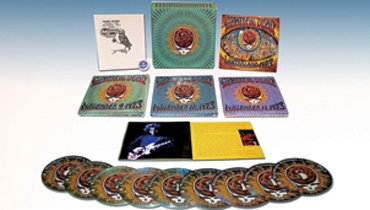 (Grateful Dead, 9 CDs, $100; dead.net)
Available exclusively from the band's Web site, this set cap-tures a legendary 3-night stand at the San Francisco arena. And when it comes to the Grateful Dead, you know that "complete" means everything -- all 72 performances, all previously unreleased. The HDCDs were mastered from the original 2-track soundboard reels, and among the bonus goodies is a booklet with an extensive essay by the band's historian, Dennis McNally. Still not enough for the Deadhead on your list? Also available is Rocking the Cradle (Rhino/Grateful Dead, 2 CDs and 1 DVD, $35) -- and by "cradle," they mean the Cradle of Civilization, as this is Egypt 1978.
THE FIRESIGN THEATER: BOX OF DANGER: THE COMPLETE NICK DANGER CASEBOOK
(Shout! Factory, 4 CDs, $40; shoutfactory.com)
Why settle for any old set when you can give a Box of Danger? That would be Nick Danger, Third Eye -- the not-so-hard-boiled detective voiced by Phil Austin in ongoing skits with his fellow comedy troupers Peter Bergman, David Ossman, and Philip Proctor. Here's every radio-serial-spoofing Nick in time, starting with "The Further Adventures of Nick Danger" from How Can You Be in Two Places at Once When You're Not Anywhere at All (1969) and further including The Case of the Missing Shoe (1979), selections from their most recent album, All Things Firesign (2003), and previously unreleased recordings. The booklet has essays by each member, in character.
CHEAP TRICK: BUDOKAN!: 30TH ANNIVERSARY EDITION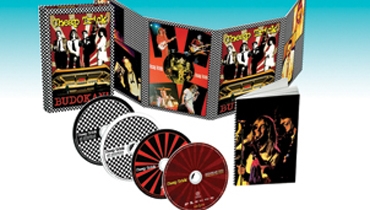 (Epic/Legacy, 3 CDs and 1 DVD, $50; legacyrecordings.com)
I can just hear the plea of your friend, spouse, or significant rocker: "I want you to give me something Cheap for the holidays!" Well, here's the Trick: At Budokan can now be heard and seen, because this edition includes a DVD of the second show, prepped in stereo and 5.1 by producer Jack Douglas and mixer Jay Messina. Extras: two songs from the band's return there in April 2008, as well as the guys Looking Back in a documentary. The first of the box's 3 CDs replicates the audio program of the DVD, and the other two discs have a remastered version of the 1998 anniversary set, The Complete Concert. So, come on, come on, gift-giver -- surrender already! And hurry up! Clock strikes ten!
VARIOUS ARTISTS: MOTOWN: THE COMPLETE NO. 1'S
(Motown/UME, 10 CDs, $NA; umeportal.com)
That's right: Housed in a house, this has every single chart-topping single (in the U.S. or internationally) from motor town's Motown. Available on December 9, it's actually a replica of Hitsville U.S.A., which was the label's main studio from 1959 to 1972 and is now the Motown Historical Museum. Bookending the 191 No. 1's are the Miracles' "Shop Around" (1960) and Erykah Badu's "Bag Lady" (2000), and in between are 14 by the Supremes, 19 by the Temptations, and 27 by Stevie Wonder. Ten bonus tracks provide Motown songs that would each top a chart in a cover version. A booklet has photos, track notes, and an introduction by Smokey Robinson.
LATEST VIDEO