Experts' Guide to Great Gifts '08
SAMSUNG HT-X715 HOME-THEATER-IN-A-BOX SYSTEM
$599
HTiB systems get no more respect than Paris Hilton. Problem is, most of them deserve no more respect than Paris Hilton. Samsung's HT-X715 is one of the few that deserve your love and a piece of your gear budget. The heart of the HT-X715 is a control module that incorporates a DVD/CD player, an AM/FM tuner, and amps for the five speakers and the subwoofer. An included iPod dock connects to the side of the unit, and you can also hook up a component-video and digital-audio source. The sound's not gorgeous, but it's surprisingly good for an HTiB. What really impressed me, though, is the thought Samsung put into the features and ergonomics. The electronics module is designed to hang on a wall, but it can also be placed atop a shelf -- in which case the front display automatically inverts so it's easier to read. Setup is automatic; just place the included microphone at your seating position and let the HT-X715 do the rest. You can select tunes from the iPod through an onscreen interface. One remote operates the whole shebang. All that's missing is Blu-ray Disc, but Samsung includes BD in some of its pricier systems. -- Brent Butterworth
NUMARK TTI IPOD IPOD-FRIENDLY TURNTABLE
$450
Your crazy, mixed-up uncle -- always tough to find a holiday gift for him. He loves his vintage vinyl, but he also digs his iPod. What to do? How about reconciling his differences with a Numark TTi turntable? Not to be confused with audiophile platters, the TTi is a down-and-dirty table with a twist: It can do direct-to-iPod recording. Just cue up a disc, plant your iPod in the universal dock built into the turntable base, drop the needle, and the vinyl side slowly appears on the iPod. The turntable also sports ±10% pitch control (for tweaking any off-speed records), a line-level output (for playing back from vinyl or an iPod), and a USB interface. If you're the one person on Earth who doesn't own an iPod, you can connect the TTi to a PC or Mac and run the bundled converter software to rip from vinyl to MP3 or CD. Best of all, the time it will take your favorite uncle to transfer his 15,000 LPs will keep him safely off your radar screen until next holiday season. -- Ken C. Pohlmann
SONY KDL-32M4000 32-INCH LCD HDTV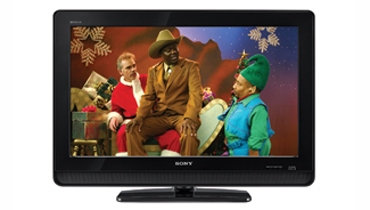 $699 ($899 LIST)
With many TV companies, their 40-inch and larger sets often provide the best features and performance while the ones with smaller screen sizes are treated as mass-market afterthoughts. Not so with Sony's KDL-32M4000. This 720p (it's actually 1,366 x 768) 32-inch model's $699 street price might be considered expensive compared with its competition, but in the long run those extra bucks will be worth it.
Looked at from a videophile perspective, Sony's small-screen LCD has several things going for it. Inputs include two HDMI, component-video, and RGB PC jacks, and there's an antenna input for watching off-air digital-TV broadcasts. You can tweak the settings for its three picture presets independently for each input and the TV will remember your adjustments. The 32M4000's 720p picture looked consistently crisp and the contrast was punchy -- but not so much that picture highlights and shadow details ever appeared washed out. (While sets with 1080p screens can be had for around the same price, that feature is overkill in a 32-inch model.) Off-axis uniformity was also good, allowing me to shift to one side of my couch without suffering any picture-quality compromises. If someone were to leave a TV under my tree, I wouldn't mind waking up to unwrap this stylish Sony. -- Al Griffin
$300
Time for true confessions. You've heard about Slingbox and sometimes nodded your head when it's mentioned, but you're actually not really sure what it is. Let me bring you up to speed: A Slingbox lets you remotely view an audio/video source from a computer (or some mobile devices) across a network or high-speed Internet connection. The sources can be a DVR, a cable- or satellite-TV receiver, a DVD player, or even a security camera. It's called placeshifting. Think about it -- with a Slingbox, you can watch satellite TV on your laptop out on the patio, or in your hotel room in Singapore. Virtual controls on your computer let you remotely control almost all connected devices. Other things you need to know: There are no monthly fees; it can be wired or wireless; and for out-of home operation, you'll need a cable or DSL router. To further sweeten the deal, the Slingbox PRO-HD can sling up to four live signals, delivering 1080i HD video in 16:9 widescreen. If your gift recipients are sufficiently wired, this will bring tears (of happiness) to their eyes. -- K.C.P.
OPTEK FRETLIGHT GUITAR INTERACTIVE LEARNING SYSTEM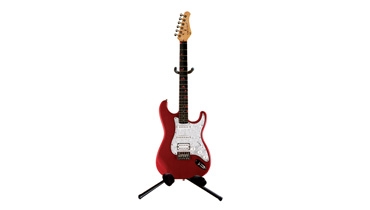 $400-$900
We've all suffered at the hands of a learning guitar -- some El Plastico midget-friendly torture instrument with all the elasticity and tone of an electrified tennis racket. The Fretlight system is every aspiring rocker's dream come true, offering real-deal acoustic and electric guitars with red LEDs subtly built into the fretboard. Jack the guitar into a PC or Mac, load the software, pop the instruction disc into your DVD player, and the LEDs light up to show you how to make all the right moves. Guitars range from acoustic models starting at $400 to standard and vintage electric axes to the $900 Pro Electric. Aside from the included set of lessons, you can buy optional instruction software that ranges from finger-tied novice to shredder extraordinaire. -- Michael Gaughn
SOUNDMATTERS FOXL PORTABLE SOUND SYSTEM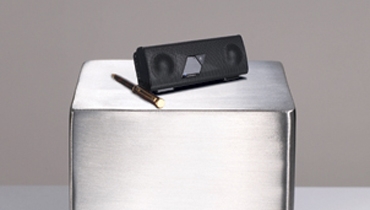 $199
This year saw the introduction of the absolute best gift of all time for audiophiles: Soundmatters' Foxl. The Foxl squeezes all the components of a high-quality audio system into a metal chassis small enough to slip into a messenger bag. Built-in digital amplifiers power neodymium tweeter/midrange drivers and a unique flat woofer panel. You won't believe how clear the Foxl's sound is, how much bass it puts out, and how many uses you'll find for it. It plays loud enough to fill a typical hotel room with music, and louder and clearer than any laptop I've tried. A standard 3.5-mm minijack connects it to any MP3 player or laptop computer, and many cellphones. You can recharge its battery through a supplied AC adapter or through the Foxl's USB connector. A $249 Bluetooth version lets you connect it wirelessly to a computer or cellphone. There's even a built-in mike so you can use the Foxl as a speakerphone. (It's not loud enough for use at freeway speeds, though.) This is the only sound system I've tried that's good enough to please my ears yet compact enough for the most hard-core road warrior. -- B.B.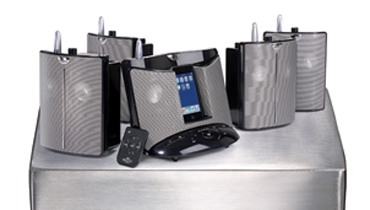 $250
Here's a swell holiday gift idea: Give your mom a claw hammer, so she can rip out her drywall and install a wired whole-house audio system. Or you can give her an Eos. This tidy system can transmit audio over a claimed 150-foot range to up to four wireless receiver/speakers. (Inside my house, the speakers worked no matter how far I placed them from the receiver. But when I took them outside and left the receiver inside, reception became touch-and-go.) The system comprises a base transmitter and one receiver; additional receivers are sold separately for $130 each. The base station has a universal iPod dock (it operates and charges all iPods with a docking connector, except the Shuffle), an auxiliary audio input, SRS Wow! processing, a 2.1-channel speaker complement of two full-range speakers and a ported woofer, and a remote control. Its power supply is both integrated and removable, so you can mount the station over a wall outlet or simply place it on a countertop. Each receiver/speaker also provides 2.1-channel playback. Everything is available in black or white. On the other hand, if your mom really likes spackle, the hammer isn't a bad option. -- K.C.P.
LATEST VIDEO