Experts' Guide to Great Gifts '08 Page 5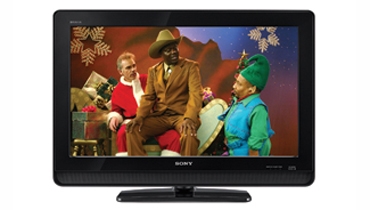 ZVOX Z-BASE 550 SPEAKER SYSTEM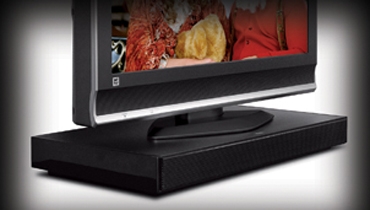 $500
Some people dream of being able to wall-mount a flat-panel TV, and once they achieve that dream, their lives are complete. Others are happy to put their TV on a stand. The Zvox Z-Base 550 is strictly for stand people, and is specifically designed to make them feel as good about themselves as wall-mount people do. The Z-Base 550 is a complete home theater speaker system built into the base platform of a beefy (yet slim) stand designed to hold a 32- to 47-inch flat-panel TV. Amplifier, virtual surround technology, remote control, auto on/off, three 2-inch full-range speakers, one 5 1/4-inch powered woofer -- they're all in there. The Z-Base 550 is ready to match your TV's style, with lacquered high-gloss black end panels. Wisely, its top is covered in scratch-resistant black vinyl. The wall-mount people will be so envious. -- K.C.P.
LOGITECH SQUEEZEBOX BOOM NETWORK MUSIC PLAYER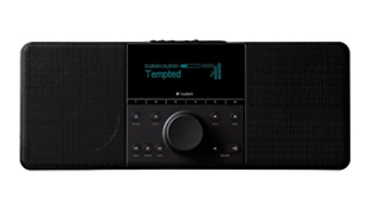 $300
My sixth-grade graduation present was a GE clock radio. With its angry, glaring red numbers, analog AM/FM tuner, and single, tinny mono speaker, it gave me years of enjoyment. But had I only been born several years later, I would have begged my parents for Logitech's Squeezebox Boom network music player. This sexy, gloss-black beauty is packed with technology and coolness, and it places millions of songs at your fingertips.
Setup is fast and easy, and whether you connect to your network wirelessly or use the hard-wired Ethernet connection, you'll be streaming gobs of music in no time. Since it plays nice with both Macs and PCs, everyone can join in the fun. The Boom lets you be the ultimate DJ, serving up thousands of free Internet radio stations along with pay services like Rhapsody, Sirius, and Pandora. You also have access to all of the digital music already stored on a hard drive, and Boom is compatible with practically every codec there is. If that isn't enough, a stereo minijack connection lets you plug in and enjoy a local source.
For room-filling sound that belies its size and svelte 5 pounds, Boom is packed with a digital 30-watt amp and four biamplified speakers. Need more bass? Boom provides a connection for adding a subwoofer, or headphones if you want to enjoy it in private.
Beyond your music's metadata, the cool, blue display can also scroll RSS feeds delivering up-to-the-minute news, stock quotes, sports scores, and weather updates. And rather than forgetting its roots, Squeezebox Boom lets you set an alarm to wake to your favorite tunes. Now that's progress -- J.S.
ACOUSTIC RESEARCH ART7 TABLETOP HD RADIO
$189
While the satellite radio giants try to get their act together in the wake of their epic merger, HD radio is still plugging along dutifully. This table-top model supports the full spectrum of HD stations as well as the typical AM/FM stuff you're probably bored with by now. If you still want more content, you can slam your iPod—any model will work—into the docking station on top. It's also a full-featured alarm clock with built in nature sounds and an infrared remote so you can hit the snooze button from all the way across the room.
KODAK EASYSHARE EX1011 DIGITAL PICTURE FRAME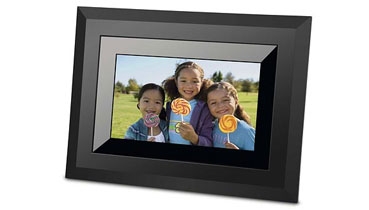 $249
Sure, it doesn't quite have the jaw-dropping presence of Kodak's new OLED digital frame, but it also doesn't come with the $1,000 price tag. The EX1011 has a roomy 10-inch screen and built-in WiFi so it can automatically recieve images from friends and family using the Picture Mail feature. It comes with a small suite of in-frame editing options, as well as customizable viewing modes to help keep things interesting. There's even a set of built-in speakers for video-watching and light music listening. We say light because, after all, they are speakers built into a photo frame.
$245
There's so much great content living on our computers that it's easy to run out of space on your media center's HDD. The Central Axis sports a 1 TB hard drive and hooks directly up to your home network. From there, it will stream your content to any networked device in the house. I can even handle content from your iTunes. When you're on the road, you can also access the drive remotely so you can place shift your little heart out using your entire media collection.
SHARP LC-52SE94U SPECIAL EDITION AQUOS HDTV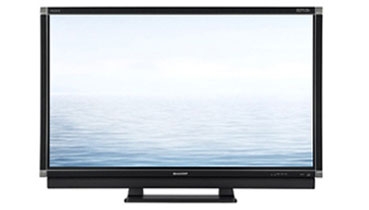 $2,800
In case you're a banker and you have some of that sweet bail-out money ready to be spent on gifts this year, Sharp's "Special Edition" panel is a pretty good call. This 1080p set claims a 27,000:1 contrast ratio and a 4ms response time as well as 120Hz frame rate conversion. The result is a super-sharp picture with blacks dark enough to satisfy Batman himself. It comes stock with three HDMI ports and Aquos Link, which makes it play extra nice with any of Sharp's Aquos Blu-ray players.
SANYO XACTI VPC-HD1010 CAMCORDER
$700
It looks more like a phaser from Star Trek than it does a traditional video camera, but this pistol-gripped shooter is about as versatile as they come. Inside is a 1/2.5-inch CMOS sensor with an effective pixel count of more than 3.5 million. It shoots 1080p footage at both 60i and 30p (sorry 24p fans) and records it to SD or SDHC cards. Of course, the sound performance won't blow you away, but its ability to shoot 300 fps in high-speed mode will make you feel a little like a Mythbuster.
LATEST VIDEO