Evolution of the App Part 2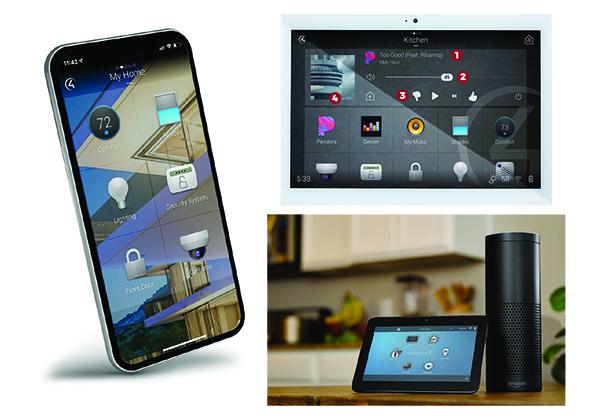 My previous
column
covered ways to control both a modern A/V system and a smart home using various manufacturer-supplied apps. With smartphone and tablet use now widespread, and smart devices capable of being controlled via free iOS and Android apps proliferating, app-based control has also surged. Whether you're streaming music, controlling your A/V receiver, or managing your home's energy or security systems, there's now an app that can help you to do it smarter, better, and more easily. And since most people are now in the habit of carrying their phones 24/7, they basically have a full-blown system controller in their pocket at all times.
But with so many devices offering their own control apps, it can get a bit overwhelming as you download and hopscotch from one app to the next, ultimately developing a case of app-bloat. This is where a smart control system from companies like Control4, Crestron, Elan, Savant, and URC can help. Similar to replacing a coffee table full of remote controls, an automation system can corral lighting, shading, security, HVAC, audio/video, surveillance, and more into one principal ecosystem. By eliminating the wait for new apps to open, load, and connect, this will enable you to do far more with less screen time and fewer button presses.
Many home automation companies make their own lighting and HVAC controllers, but they also allow for integration with products from other manufacturers. For example, my home's primary control system is made by Control4, but I have a mixture of Control4 and Lutron dimmers, fan controllers, thermostats, and keypads, as well as both Lutron and Hunter Douglas shades. These items all appear as controllable devices within the Control4 app, regardless of who makes them. In fact, when it comes to my home's Hunter Douglas Duolite shades, I prefer controlling them with the Control4 app because it presents more accurate information about the exact positions of the sheer and blackout shades.
Another automation system benefit is better control over your home's security. Besides being able to do things like see all of your security cameras within the same app, you can also quickly access other home control functions, often with a single button-press that triggers a scene like "Welcome." For example, when using the Control4 app with the company's new Chime smart doorbell, I can turn on my front porch lights, see and talk with a visitor, disarm the security system, and unlock gates and doors. When you're not using an automation system, executing those commands might otherwise require jumping in-and-out of five or more apps.
It's also easy to trigger events to happen across multiple devices from different makers when all of your devices are managed by an automation system. For example, if one of my LeakSmart sensors detects a water leak, the system can trigger lights to flash in the house. A motion detector can trigger devices to turn on/off in a room, or the disarm code from a security keypad can launch a "Home" scene that adjusts HVAC, music, and more.
Automation systems deliver other benefits besides app-control over smart home devices. A wall-mounted or tabletop touchscreen can provide an always-on point of access for the system, which can be programmed to execute virtually any command or string-of-commands from a keypad button press, or an astronomic timeclock that automatically triggers events based on a specific time of day or sunrise and sunset. Savant system owners can even use the company's Apple Watch app to access climate, lighting, and scene programming, putting advanced home control capability right on your wrist.
With all your home's smart devices controlled by an automation system, it's also far easier to use Amazon Alexa or Google Assistant voice commands to kick off complex events through setting up voice scenes like "Dinner" or "Goodnight." For example, in my home a "Movie Time" scene shuts down all the lights, lowers the living room shades, turns off any audio playing around the home, turns on my surround sound system and video projector, and calls up the Kaleidescape cover art menu — with all of that happening as I walk to the couch with my hands full of snacks and drinks.
Beyond everything an automation system can do when you're at home, it also provides full control access from any location in the internet-connected world! This makes it easy to check in on your home — or to have it automatically report to you — so you'll know that everything is okay while you're away
The Author
For the past 20 years, John Sciacca has worked as a custom installer in South Carolina. In his free time, he enjoys drinking craft beer and watching movies on his 7.2.6 surround system.