An Evening With Satchmo at the KEF Music Lounge
KEF's April 30, 2022 "An Evening with Satchmo" event, featuring special guest Grammy winner Ricky Ricciardi, Director of Research Collections at the Louis Armstrong House Museum and Archives, marked the first time that I wore a suit since the pandemic's start. Although the manufacturer events that I've recently attended have each raised the bar on luxury, this one promised to significantly up the ante. It featured not only a semi-formal dress code, but high-end food and spirits and Louis Armstrong music and video clips in an elegant setting—
KEF's Marlboro, New Jersey Music Lounge
, which the company describes as an "idea, training, and experience center" that's physically attached to its U.S. corporate headquarters.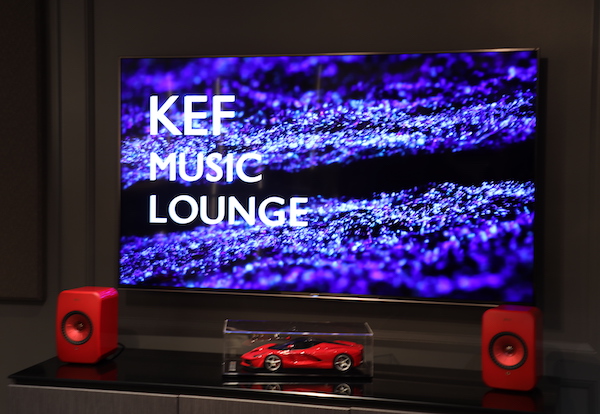 Other than a handful of press members, present at the event were approximately 30 KEF product owners, enthusiast club members, dealers, custom installers, and staff members. The evening's presentations were divided into two parts, both held in the facility's impressive THX-certified KEF theater. First, was a presentation by Riccardi, during which he was to share never-before-seen video of Armstrong from the museum's archives and audio tracks from The Complete Louis Armstrong Columbia & RCA Victor Studio Sessions 1946-66, an audiophile-grade, seven CD-box set produced by Mosaic Records. Riccardi co-produced the set, wrote its liner notes, and provided archival photos for it.
Second, were presentations by David Kroll and Ben Hagens, VP for KEF America and Product Training Specialist with KEF Global home, respectfully, to be followed by demos of clips from numerous movies and concert videos.
After being warmly greeted at the door, my guest and I entered a loft-like space, where a reception featuring an open bar and waves of food servers was underway. We soon ran into Kroll, who told us that this area of the Music Lounge provides an experience similar to that of entering an elevator in a tony New York City or London residential building and exiting directly into an open floor-plan penthouse. In this case, the layout included living, office, and home entertainment areas, a faux fireplace, and of course multiple audio systems.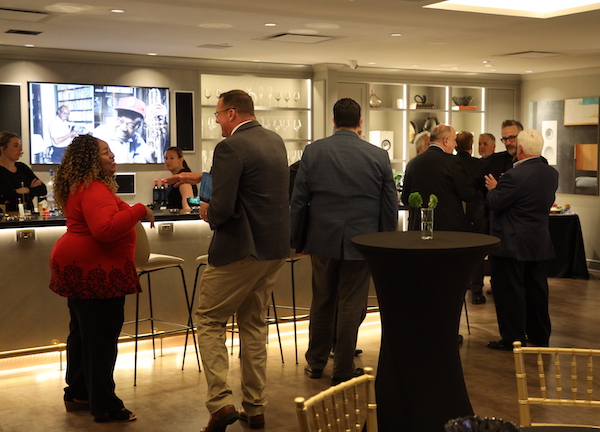 The audio systems' electronics, from Chord Electronics, Parasound, and Bluesound, were secreted away in the space's many wooden cabinets. More prominently placed within the space were various-sized KEF speakers. The largest of these was a pair of the company's new KEF Blade One Meta loudspeaker ($35,000/pair) that were finished in a sophisticated high-gloss black. Also visible in the space were two 65-inch Sony televisions.
It was only upon close examination that the space's speaker-centric decorative theme became apparent. Held within the many custom shelves were not only upscale sculptures and KEF corporate artifacts, but numerous examples of the company's smaller speakers that were presented as works of visual art. Despite their obvious aesthetic appeal, the speakers were all connected to electronics and available for audition. Even some of the space's wall art was made from KEF speaker cabinets, many brightly colored.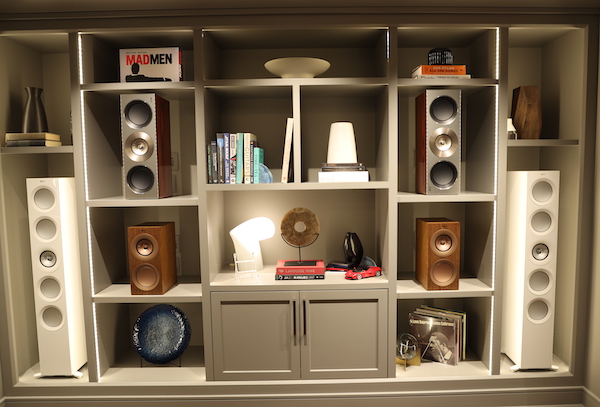 At the reception's conclusion, guests were asked to convene in the KEF Theater for the presentations. The 24 x 28-foot acoustically treated theater, with its 12-foot ceiling, was a sight to behold. It featured a 9.10.6 Dolby Atmos sound system that was driven by an array of Parasound's Halo amplifiers with a total power rating of 10,000Wpc. Digital signal processing was handled by an Acurus Act 4 16-channel surround processor. There was also nine KEF in-wall surround speakers, six in-ceiling Atmos speakers, four 12-inch active subwoofers, and six channels of active in-wall subs. The combined ten subs provided a combined 2,700 watts of power.
Typically, the theater's speakers are all contained in-wall. However, for the event, another pair of Blade One Meta speakers, finished in striking red gloss, were pressed into action so as to portray Louis Armstrong's music in the best possible fidelity. Video gear included an Epson 6050 projector and a Seymour Excellence 160 x 140-inch screen.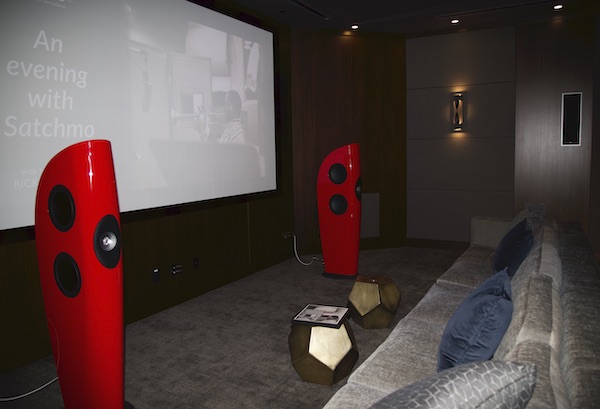 Riccardi's presentation utterly fascinated the spellbound crowd, which was regaled with not only little-known details of Louis Armstrong's life and career, but the history of the 29-year-old Louis Armstrong House Museum and Archive, the painstaking restoration of numerous original and rare Armstrong recordings, and the making of the CD box-set which took four years from concept to finished product. We also heard the story of when at age fifteen Riccardi first heard Armstrong's music and decided to dedicate much of his adult life to studying his life and preserving his legacy.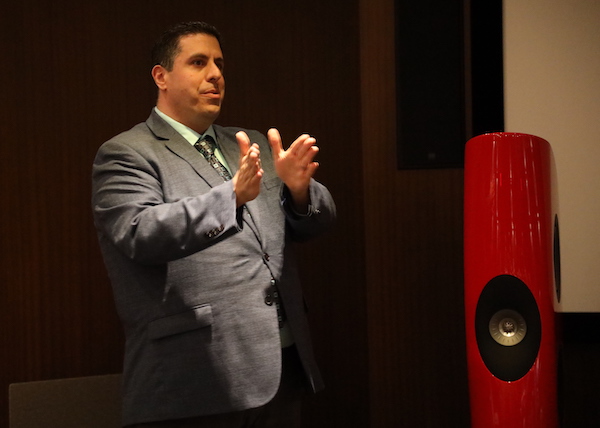 During his presentation, Riccardi played remastered film of an Armstrong performance from 1933. That was followed by 1940s through 1960s-era audio tracks from the CD box set. The sound of these vintage source materials on the Blade One Meta speakers was breathtaking.
Presentations by Kroll and Hagens provided the crowd with information regarding KEF's speaker technologies and the KEF Theater. Also discussed by the duo was the Music Lounge's raisons d'être, which is to provide not only a training facility for KEF's customers, dealers and custom installers, but a space to demonstrate what the company's audio products can bring to the customer experience in a setup that contains even moderately-priced video gear.
Thereafter, a dozen or so movie and music videos clips were played. Clearly, many of the guests had never heard such a high-performance audio system. Whether it was the system's large soundstage, lack of distortion, incredible detail, low-end linearity and slam, or high-end air and extension, it was fair to say that many were stunned. During one of the scenes from the movie Ford v Ferrari, several guests were so shocked by the low-end growl of a race car's engine that they almost behaved as if they were in the car's passenger seat.
At the conclusion of the very fun and informative evening, multiple copies of two prizes—the Armstrong CD-box set and one of two books that Riccardi has written, Heart full of Rhythm: The Big Band Years of Louis Armstrong, were raffled off. Many of the guests didn't want to leave the event and lingered until the Music Lounge's doors were sealed closed for the night. Kudos to KEF for a highly successful and eye- and ear-opening event.