Epson PowerLite Pro Cinema 1080 UB LCD Projector
As with many projector manufacturers, Epson's product line is heavily oriented toward business applications. In that respect, the company is consistently at or near the top in worldwide sales. But Epson also occupies a significant and growing share of the home-theater market.
LCD projectors are built around three small LCD chips, one for each of the primary colors—red, green, and blue. Epson is one of only two manufacturers of these panels, with a commanding 85-90% share of the LCD-chip market. (Sony is the other maker, but its chips are used only in its own projectors.) Epson's chips, which carry the designation C2 Fine, are used not only by Epson but by other projector manufacturers as well. If you already own an LCD projector (other than a Sony), it has Epson LCD chips inside.
While other manufacturers snare a lot of attention for their premium designs at premium prices, Epson concentrates its efforts in the relatively affordable end of the market. Its current top-of-the-line design is the PowerLite Pro Cinema 1080 UB. At $4000, it's hardly cheap, but as flagship models go, it's a real bargain—but only if it delivers.
Features
Externally, the PowerLite Pro Cinema 1080 UB has the same gently curved lines as other recent Epson home-theater projectors—this one is finished in a glossy, metallic black. It's about half the size of similarly featured designs from many of its competitors, and, not surprisingly, it's packed to the gills inside.
Despite the lack of breathing room, Epson has managed to build a projector that emits only a trace of stray light through its front-mounted exhaust port. It isn't the quietest of projectors in my preferred High lamp mode, but I wouldn't call it obtrusive—with movie sound playing, I never found its fan noise objectionable. The Low lamp setting is definitely quieter but audible in a quiet room.
The projector uses three of Epson's latest-generation D7 LCD chips with an aperture ratio of 54%. Like all conventional LCD devices, an LCD chip is transmissive—that is, light passes through it and is modified by the state of each pixel to form an image. The aperture ratio is the percent of light striking the panel that actually passes through it. The remainder is blocked by the opaque grid structure between the individual pixels.
An aperture ratio of 54% may sound low, but for LCD, it's a major improvement over previous generations. The D6 chip, for example, has an aperture ratio of 45%. LCoS and DLP aperture ratios are much higher—over 90%—because these devices are reflective, with the driving circuits located behind them. In an LCD, however, the driving signals must travel through microscopic cables in the gaps between the pixels.
The lens' focus, zoom, and horizontal and vertical shift controls are all manual. The shift controls produce a tactile click when moved to their center positions, a welcome and, in my experience, unique feature.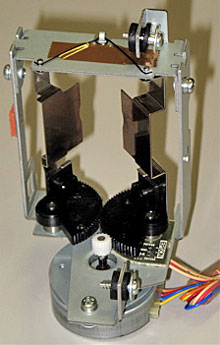 The Epson includes a typical complement of connections, including two HDMI 1.3 inputs. The access ports for the projection lamp and filter are located on the bottom of the case. If the projector is ceiling-mounted, it may have to be taken down to replace the lamp or clean the filter.
The projector has a dynamic iris that Epson calls Auto Iris, which lowers the black level without seriously compromising the peak light output on bright scenes. You can turn it on or leave it off; there are no intermediate options or fixed-iris settings.
Epson claims to have improved the Auto Iris to lower black levels, leading to the projector's UB (Ultra Black) designation. Two lamp settings, High and Low, are selectable from the oddly named Brightness Control—not to be confused with the separate and more conventional Brightness control!
One welcome feature is a control called 2:2 Pulldown. When this control is enabled, a 1080p/24 video signal is displayed at 48Hz—each frame is repeated twice, just like in most commercial film projectors. This eliminates the judder of 3:2 pulldown when 1080p/24 is converted to 60Hz, as it is in most modern displays.
LATEST VIDEO