Epson Home Cinema 4000 4K Enhanced 3LCD Projector Review Page 2
Black levels were acceptable though not eye-watering out of the box, so I wanted to give them all the help the projector offered. The High Speed mode of the dynamic iris did produce some brightness pumping, though this was obvious only on opening disc menus, FBI warnings, and other pre-movie clutter. I preferred High Speed primarily for the deeper blacks it offered on fade-outs between scenes. But most of the time, there was little visible difference between the High Speed and Normal settings. It was also no surprise that the High lamp mode I used for HDR resulted in higher black levels.
Most of the HDR-enhanced Ultra HD Blu-rays I tried ranged from good to excellent, though the optimum settings (primarily Contrast) differed from title to title, depending on how high the Contrast control could be set without triggering serious white clipping. Guardians of the Galaxy, Vol. 2 was the champion at this, looking spectacular even at a Contrast of 90, just 10 steps short of maximum. A few other discs were fine in this setting as well, but some were more watchable from 75 (or lower) to 85. Even then, there was occasional clipping. That seems to be an occupational hazard with HDR, particularly in projectors, but it was generally only visible in the background here (sunlit white clouds and such) and only rarely distracting.
The frame processing rate of the Epson is 120 hertz. So it can display 24-Hz material (which covers virtually all UHD Blu-rays) using 5:5 pulldown, which helps prevent processing artifacts. However, there are significant limitations on how the projector supports HDR in 4K. It wouldn't reliably display a 60-Hz 4K HDR source, though there are still few of those. In addition, it supports 24-Hz 4K HDR only when the source output uses 4:2:2 color subsampling. Feed it less compressed 4:4:4 HDR, and it plays 4K but at 8 bits, Rec. 709, and SDR. You can't get full 4K/HDR/BT.2020 on the projector if your source outputs only 4:4:4 with no 4:2:2 option.
UHD/HDR
The Epson 4000 definitely looked better than it measured with UHD/HDR material in its default settings. But the default Contrast setting for Bright Cinema simply isn't bright enough for good HDR. It produced an HDR EOTF (gamma) curve that loitered well below the specified EOTF brightness levels up to the inevitable HDR clipping point. Raising the Contrast setting as mentioned above helped considerably with the default EOTF, but any decent projector deserves a good calibration. I delayed this until I had racked up more than 100 hours on the lamp, much of it in High mode.
The transition to 4K/UHD/HDR has been, and remains, a challenge for projectors, with HDR the most difficult bridge to cross. HDR was invented for flat-screen TVs; no projector can come close to the 400 nits (or far more) of peak brightness that most TVs can achieve on a slow day. This is the primary reason why consumer projectors don't generate flashy, post-calibration UHD measurements, and the Epson 4000 was no exception. Its color gamut came close to achieving the equivalent P3 color points within the larger BT.2020 color volume envelope endemic to UHD (virtually all current UHD material is originally mastered to P3 color points), but it didn't quite get there.
None of this seriously limited the projector's subjective HDR performance. Both of my current HDR reference discs on Ultra HD Blu-ray, Guardians of the Galaxy, Vol. 2 and The Great Wall, looked amazing. The images were dynamic and nearly three-dimensional, with an impressive dose of HDR. The bright, vivid colors in these films were hard to fault. Other discs fared just as well, though some looked best at lower Contrast settings, including Allied and back-catalog reissues such as the long-awaited UHD release of Blade Runner and the unexpectedly terrific-looking and -sounding Starship Troopers.
The same was true of the animation in The Boss Baby and the surprisingly spectacular picture and sound of Transformers: The Last Knight. The only flaws in the latter, apart from its incomprehensible script and bludgeoning 2.5-hour length, were oversaturated greens in the British sequences. The green hills of England have never been quite this…green. Not real, perhaps, but they sure were purdy. Wonder Woman also looked excellent, though the colors there were a bit more subdued, and clipping was clearly visible in the explosions during the closing firefight between Wonder Gal and Ares.
While not all HDR titles looked quite as good as these, the fact that so many of them did was a big step up for HDR in an affordable projector. While no projector I've yet seen, including this one, can match the HDR performance of a premium flat-screen TV, the larger screen makes that easy to overlook. Nothing I saw from the Epson's HDR, on good sources, left me wanting for more color, resolution, or punch.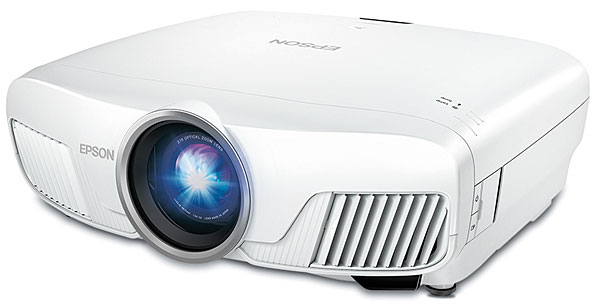 The projector's only significant shortcomings were in its deep blacks and shadow detail. Night scenes did work, including an ambush in Guardians and a funeral in The Great Wall, but they clearly were grayish compared with what I see from my LG OLED. Still, that's a tough bar to cross for a projector at any price, much less one at this low price. Nothing in the Epson's performance ever made me say "Yuck" or took me out of a movie. And if the dark scenes had enough bright highlights (clearly demonstrated, for example, in Blade Runner), the lack of truly black blacks was easy to overlook. My 2.35:1 screen, which puts the projector's gray-black letterbox bars well offscreen on widescreen films, also helped—a lot.
HD/SDR
The Epson isn't as crisply detailed in either HDR or SDR as the 4K DLP-driven Optoma UHD65 ($2,500), but resolution is the latter's primary strength (and the ever-critical contrast its weakness). That doesn't mean, however, that the Epson looks soft. With its 4K Enhancement feature turned on, and its many detail-affecting controls carefully set, it's rewardingly sharp. But I also found it to be even more so with 4K Enhancement turned off (obviously not an option in HDR).
I discovered this when watching the SDR version of Life of Pi. Closeups profited only a little from defeating 4K Enhancement, but the benefits were most visible in medium and distant shots. Check out the early school scenes in India, with the small but detailed faces of Pi's classmates in the background. It was also clear in the chapter where Pi and his brother are visiting the Indian countryside, in a shot that shows bridges and a church in the far distance. The detail was more clearly rendered with 4K Enhancement turned off in these scenes, and in others as well.
Even apart from that, and the oversaturated, post-calibration green (which was never distractingly obvious), the projector shined on Life of Pi and other good HD/SDR material. Even the less-than-inky blacks were less of an issue than you might imagine. Yes, some scenes from my favorite black-level and shadow-detail torture tests couldn't quite match the best I've seen, but even Harry Potter and the Deathly Hallows: Part 2 was reasonably satisfying and didn't suffer a complete washout of shadow details, as some projectors will cause. The key scenes here were several long, nighttime shots of Hogwarts, including the iconic scene in Chapter 12 where Voldemort stands on a bluff with his minions (not the funny, yellow kind) overlooking the school before beginning their attack. While such scenes weren't gold-star worthy on the Epson, I could at least make out the deeply shadowed spires of the school in the distance, which on lesser displays can sometimes disappear into a grayish muck.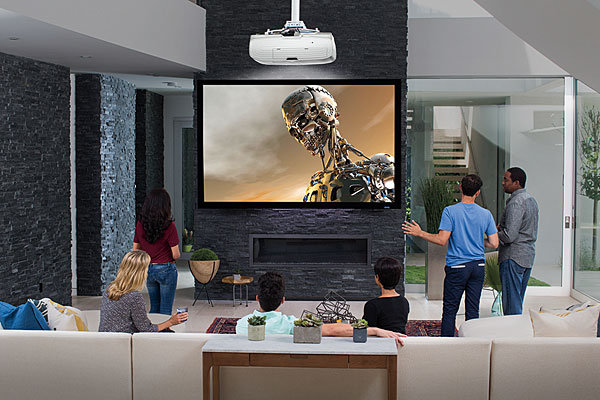 I didn't spend a lot of time with 3D, but the Epson is a very bright projector—a must for good 3D. I didn't calibrate it for 3D but rather used the 3D Dynamic Color Mode together with the lamp on High, the Brightness at 51, the Contrast at 40 to 50, the Color Temperature at 5, and the Gamma at 2. And I wasn't disappointed in the least with the two 3D discs I sampled, Avatar and Tangled. There was no obvious ghosting, and the images were vivid, more than bright enough, and consistently engrossing. Fans of 3D won't be disappointed.
Conclusions
Yes, the Epson has a few shortcomings, including limited deep blacks, the lack of a fixed iris to complement its dynamic one, the manual switching required when jumping between HD/SDR and UHD/HDR sources, and fan noise that might be an issue in some setups in the optimum settings for HDR. If your budget allows, you might consider stepping up to the slightly more expensive PowerLite Home Cinema 5040UB, which should help with the most important of these reservations. But with the Home Cinema 4000, I could have been fooled more than once into thinking I was watching a far more expensive projector, even in a blind test. It may offer enhanced rather than full 4K, but my time with it was never less than a pleasure.