Epson, Atlantic Put It All Together
Home theater is the integration of big-screen television and surround sound. But how often do you see the two product categories integrated with
each other
? That's what makes a new system from Atlantic Technology and Epson so special.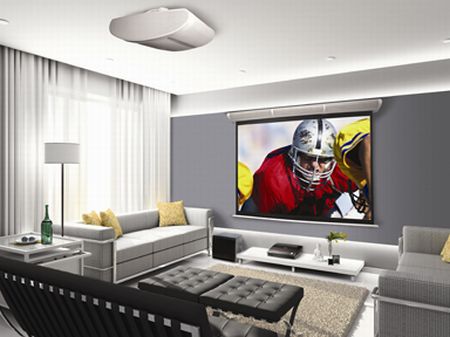 The Ensemble 1080 triple-LCD projector comes in a cradle that also includes two full-range rear-surround speakers. Three front speakers are built into the housing for the 100-inch retractable screen, their horn-loaded tweeters and 4.5-inch woofers aimed downward toward the listening position. There is also a separate 10-inch subwoofer, which contains amplification for the whole system, and a sleek controller, which serves as both preamp-processor and DVD drive.
At a demo in New York, Ensemble actually sounded good! Pricing will be $4999 for the 720p version and $6999 for the 1080p version. The system will be sold exclusively through a/v specialty dealers and custom installers. See press materials, TWICE coverage.
WHERE TECHNOLOGY BECOMES ENTERTAINMENT