Emotiva's 16-Channel XMC-2 AV Pre-Pro Has Arrived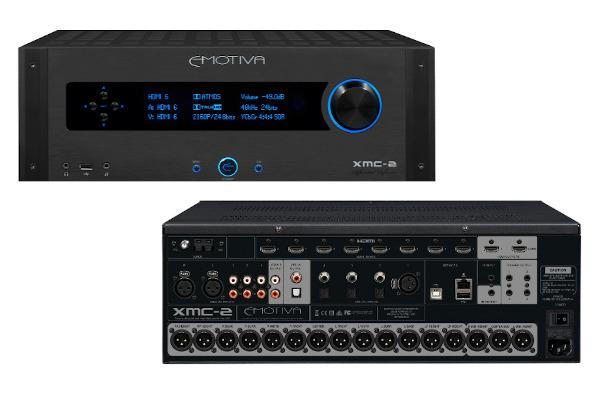 Emotiva Audio today announced that the 16-channel XMC-2 AV preamp/processor it
previewed in January at CES 2019
is now shipping.
At $,2,999, the XMC-2 is a more affordable follow-up to the RMC-1 flagship that costs $2,000 more. Even though it has fewer features and extras, it was designed from the ground up to offer performance that approaches its pricier sibling through the use of "powerful new DSP technology," audiophile-grade analog circuitry, and "bit-perfect video switching."
Like the RMC-1, the XMC-2 incorporates object-based Dolby Atmos and DTS:X surround-sound processing for up to 16 channels, the same intuitive Live AV menu/control system and large OLED display, and supports 4K passthrough and Dolby Vision high dynamic range (HDR).
The XMC-2 also provides fully balanced audio output and employs the same audiophile-grade AKM AK4490 32-bit DACs as it's big brother, which delivers refined sound by employing a "super-high-quality" mono mode for each of the front three channels and main low-frequency effects (LFE) outputs, while the remaining channels operate in stereo differential mode.
"If the RMC-1 was our most anticipated product in recent years, the XMC-2 was right behind it," said Emotiva president and CEO Dan Laufman. "Out of the gate, it's the one that longtime customers have been drooling over, especially after word got out that performance is very similar to that of the our flagship RMC-1.
For more information, visit emotiva.com.