Emotiva Gets Ready For 11.5.8 Dolby Atmos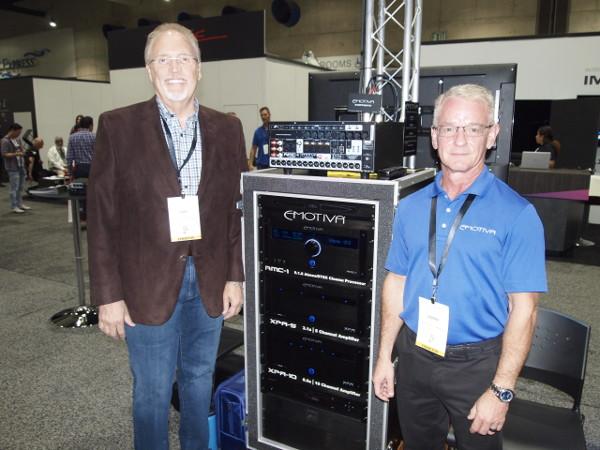 Emotiva Audio is in an expansive mood at the CEDIA Expo, launching an AV preamp/processor/tuner with the processing power and expansion ports that will enable it to support 11.5.8 channels of Dolby Atmos surround.
When the $4,999-suggested RMC-1 is available Nov. 15, it will support 9.1.6 channels of Atmos out of the box, but three optional back-chassis XLR-output modules will bring the channel count to 24 to support more immersive-audio channels, add more subwoofers, biamplify multiple speakers, or implement a mix of all three. Because all outputs are fully assignable, "we can make any channel what we want it to be," said VP/CTO Lonnie Vaughn (pictured above at right with president/CEO Dan Laufman and the RMC-1).
The XLR-output modules will be available in the first quarter and bring the cost of a 24-channel version of the RMC-1 to around $6,000 to $6,500, Laufman told Sound & Vision. The AVP is the company's first audio component with Dolby Atmos and DTS:X decoding, but more are on the way, including the 13-channel $2,999 XMC-2 AVP in early January 2019. It will be capable of immersive speaker layouts up to 7.2.4 speakers and will be followed later in the first quarter by the 16-channel $3,799 RMC-2, capable of 9.1.6-channel speaker layouts. Neither offers the channel-expansion options of the RMC-1.
Dolby Atmos and DTS:X will also come to the company's first AVR, due early in 2019. It will feature 15.1 channels of output to support 9.1.6-speaker layouts and will be rated at 15x200 watts into 8 ohms.
"The outputs are fully assignable, and each XLR expansion module contains a dedicated dual-core Sharc processor and DACs," Laufman said of the RMC-1.
The expansion bays can also accept a balanced input expansion module, a MC/MM phono module, and a thin-client streaming module.
All 16 of the RMC-1's 16 channels are fully balanced, and each channel is processed by a separate AKM Verita 32-bit DAC. Each channels supports 11-band parametric equalization through the free Room EQ Wizard room-correction software. The processor also features 15.1 or 13.3 Dirac Live automatic room correction running on all 16 channels at a 96kHz sampling rate.
For music listening, the RMC-1 decodes high-resolution audio, including single- and double-rate DSD, through HDMI- and USB-connected sources.
Eight HDMI 2.0b inputs support 4K video with high dynamic range (HDR), including Dolby Vision. Dual HDMI outputs connect to two displays in a room, a flat-panel display for daytime viewing and a projector for nighttime viewing. There's also an AM/FM tuner for those who listen to analog radio.
To deepen the bass response of home theaters powered by the RMC-1 and other components, Emotiva expanded the subwoofer options in Airmotiv speaker series and stepped up performance with 12- and 15-inch models rated at 500 and 650 watts respectively at a suggested $799 and $1,199. The 15-inch S15 is Emotiva's most powerful sub.
The new subs complement a current 10-inch model. All three feature downward-firing driver, high-excursion passive radiator, acoustically inert high-density fiberboard (HDF) cabinets, and Class D amplification.