Elite's $1,000 Outdoor Cinema Bundle Includes a Short-Throw Projector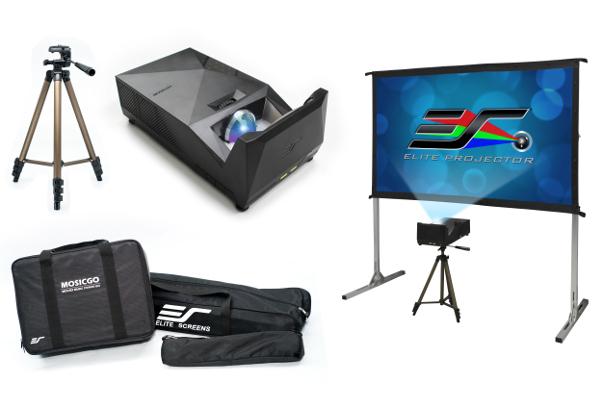 As we head into winter, Elite Screens is thinking ahead to warmer weather with a lightweight outdoor video projection system that boasts an ultra-short-throw DLP projector and freestanding projection screen.
The $1,000 MGFU-L package includes the compact MosicGo projector with an adjustable tripod and a 58-inch Yard Master 2 (OMS58H2) 16:9 projection screen with a "fast folding" aluminum frame. The step-up MGFU-S bundle costs $1,299 and comes with a sport version of the projector that has an integrated lithium-ion battery pack.
The power bank is rated to last up to 2.5 hours when fully charged and is equipped with USB-A and USB-C charging ports to accommodate cell phones, laptops, and tablets.
Designed to project an HD image when positioned inches from the screen, the MosicGo projector is IPX2-certified to resist water droplets and has an Osram LED lamp with a rated output of 10,000 lumens and 25,000-hour life. Contrast ratio is spec'd at 20,000:1. The projector also has a built-in 16-watt wireless stereo speaker system.
Elite says the projector, tripod, and screen can easily be carried and set up by one person.
Both bundles are covered by a 2-year warranty.
For more information, visit eliteprojector.com.
WHERE TECHNOLOGY BECOMES ENTERTAINMENT