Elite Mates Outdoor Projection Screen with Awning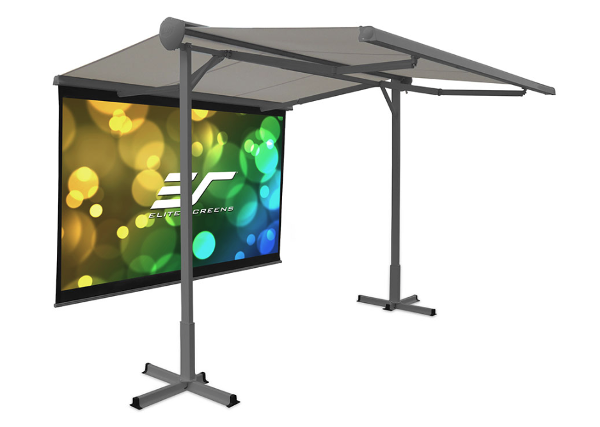 Elite Screens is kicking off summer with a creative if not unusual outdoor product: a projection screen that attaches to a freestanding awning.
The YardMaster Awning Series combines an outdoor screen with a retractable sun shade made by Advaning Awnings & Shades. The idea behind the unique combo is to keep the party going even after the sun goes down. The awning provides cover from the sun during the day and, when dusk rolls around, becomes the focal point of an outdoor theater with a massive 16:9 screen.
Both the awning and screen are supported by a corrosion-resistant stainless-steel frame and marine-grade cables. The canopy, which opens via a hand crank, extends 5 feet in either direction from a center beam and is either 11- or 14.6-feet wide, depending on the screen size. Four sizes are available: 100, 116, 135, and 150 inches (diagonal).
The canopy is a 100-percent acrylic, UV80+ rated weave said to resist fading and mildew. The screen, which comes as a detachable module, is Elite's 1.0 gain DIY Wall 3 model featuring a Greenguard-certified MaxWhite B matte white projection surface.
Prices start at $1,099.
To see what it takes to assemble the YardMaster Awning Series screen combo, check out this video.