Elgato EyeHome Digital Media Player and EyeTV 200 Tuner/DVR
Can you say IP?
At this year's CEDIA Expo, two technologies ruled the day: A/V servers and Internet Protocol (IP). It's safe to say that convergence really has invaded every part of the home theater arena. If your eyes tend to gloss over when your computer-savvy friends toss around words like IP, network, and Ethernet, I've got some bad news for you: You can run, but you can't hide. First, the computers took over our offices; now they're invading our entertainment space. Someday, they'll kill us all—but hey, we'll probably be gone by then, so let's talk about how IP can enhance your home theater experience.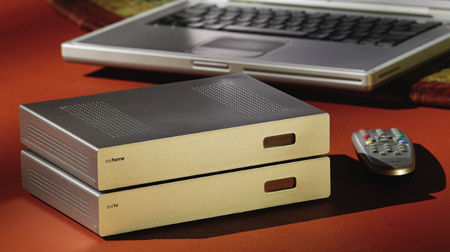 The dedicated multimedia servers and IP products at CEDIA cost thousands of dollars, a pricey way to acquaint yourself with the technologies. If you already use your computer to listen to music or download digital photos, consider instead the entry-level digital media player, which is basically a portal that links your A/V system and your PC—or, in this rare case, your Mac. That's right, Mac doesn't get many invites to the convergence party, but Elgato Systems has made him feel right at home.
Home Is Where the Hub Is
The EyeHome allows you to view all of the movies, music, and photos stored on your Mac and use your computer's Internet connection to surf the Web in your living room. There are three setup options: If your Mac(s) is already connected to an Ethernet hub or switch, you can run a standard Ethernet cable from the switch to the EyeHome box; you can connect one Mac directly to the EyeHome box with a crossover Ethernet cable; or you can use an 802.11g wireless Ethernet adapter. Initially, I chose the first setup option, connecting my primary Mac—a 550-megahertz PowerPC G4 PowerBook running the OS X 10.3.5 Panther operating system—to a Linksys 10/100 five-port Ethernet switch in my home office.
Setup is detailed on a postcard-sized QuickStart Guide that comes in the box. (The complete user's manual is only available as a PDF on the software CD-ROM.) I ran CAT-5 cable from the Ethernet switch to my living-room A/V setup and inserted it in the Ethernet port on the back of the EyeHome, which I connected to my A/V system via its component video and digital optical audio outputs. It took only moments to load the EyeHome software on the PowerBook.
Important setup note: If your network is firewall-enabled (as it should be), you need to go into your Mac's system preferences and configure a custom port that allows the EyeHome and Mac to communicate. This wasn't detailed in the QuickStart Guide that came with my review sample (it was buried in the manual's troubleshooting section); however, at press time, Elgato had announced plans to release a new EyeHome box in which this important setup info is more-clearly emphasized (current EyeHome owners can download the new guide from the company's Website).
Upon powering up the EyeHome with the remote, you're taken to a "Connect" menu that lists all of the Macs it sees on the network; you simply highlight the one whose content you want and hit the OK button, and you're taken to a menu in which your digital content has been neatly organized into five categories: EyeTV (more on this in a moment), movies, music, pictures, and services (Web portals).
The EyeHome reads whatever is stored in your Mac's music, movie, and photo libraries. If you use programs like iTunes and iPhoto to import and store all of your media, then this content will be awaiting you in the EyeHome menu. If you want to access content that isn't in these folders, you can move it (or just an alias of it) to these folders. I don't have many movies on my Mac, but my iTunes is loaded with more than 5 gigabytes of MP3, AIFF, and AAC files, and my iPhoto library has tons of JPEGs.
The EyeHome lets you browse your music in the same manner that you organized it in iTunes—by genre, album, artist, or the complete library. The random and play-all commands work in a specific folder or with the entire library. It would take a heck of a lot of CDs to hold my entire legally ripped music collection, so having direct access to the content on my Mac's hard drive was extremely convenient. Plus, whenever I added new content to the Mac, it showed up immediately on the EyeHome box.
Likewise with my photos. The EyeHome photos folder mirrors your iPhoto organization; you can browse individual shots or play a slideshow with music that you've set up in iPhoto. The thumbnails are a bit blurry, but the image quality of the pictures themselves is on par with, if not better than, what you'd get from a DVD-player JPEG reader. The EyeHome is also a lot quicker and more intuitive than any DVD-player JPEG viewer I've used.
Through my Ethernet switch, I wasn't able to access the Internet. Sadly, I'm still stuck in the dial-up dark ages at home, and my modem simply wasn't quick enough to work through the switch to the EyeHome. When I connected my PowerBook directly to the EyeHome via the crossover Ethernet cable, I was sometimes able to connect, but navigating the various Web bookmarks, Websites, and Internet radio stations was still aggravatingly slow. If you're as outdated as I am when it comes to the Internet, take heed; you 21st-century broadband types should be fine.
It was now time to test the network. I loaded the EyeHome software on three additional Macs: a dual-processor 1.8-gigahertz PowerPC G5 (suh-weet!), a 400-MHz PowerPC G4, and a 300-MHz PowerPC G3 (the latter two don't quite meet the EyeHome's minimum specs but still worked with the software). I connected them to the Ethernet switch and headed back to my living room to see what would happen.