Electronics on Groupon? Oh, Yeah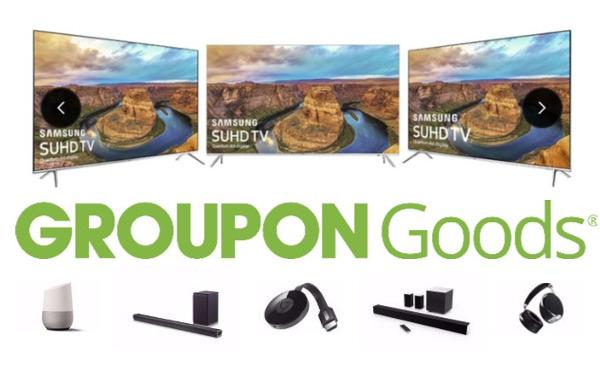 For many of us the Groupon is a way to discover places to eat—some good, others not so much—but always at a great discount. Of course, (for us anyway) it's easy to forget that just about every product category you can imagine is offered on Groupon—including electronics.
A Goupon Goods promo email that hit our inbox yesterday was loaded with deals on electronics items, which made us wonder about the motivation behind offering products at these sharp discounts. Poor sales? An old model going out of the line? Refurbished goods? The desire to get a quick revenue pop? All of the above?
Turns out, refurbished goods—store returns the company has checked out and repackaged—figure prominently into the Groupon mix, at least if our brief encounter is any indication. Here are a few of the items promoted in yesterday's email:
Vizio SB3851-D0 SmartCast Streaming 5.1 Sound Bar System (Refurbished): $169.99 (original price $299.99). The product page says over 430 have been sold. If you're interested, better hurry—the deal ends Saturday, June 17.
Google Chromecast Streaming Media Player (Refurbished): $25 (original price $35). Yep, another refurb. Units sold so far: over 1,000. No end date is given but the page says "limited time remaining!"
LG 2.1-Channel 300W Sound Bar with Wireless Active Subwoofer and Bluetooth (Refurbished): $119.99 (original price $279). Units sold so far: 490. If you believe them, there is "limited time remaining" for this deal.
Parrot Zik Wireless Over-Ear Noise-Canceling Headphones (Refurbished): $79.99 (original price $179.99). Units sold: over 190. Again, no end date is given, just "limited time remaining."
Google Home – Hands-free help from the Google Assistant: $109 (original price $129). No refurb here but the Big G might be looking to the other G as a way to expand awareness for the smart speaker it introduced last year or maybe just clearing the way for the next-gen version it's working on. Units sold: 80, which is lackluster by comparison. You guessed it: There is "limited time remaining!"
Clicking on the View All Goods button at the bottom of the email and selecting Electronics in the Categories drop-down menu opened the floodgates for electronics deals. A couple caught our eye…
Samsung KS800 Series 55", 60", and 65" LED 4K Ultra HD Smart TVs (Refurbished): $749 for 55-inch model (original price $1,199.99), $1,019.99 for the 65-incher (original price $1,679); the 60-inch model is sold out. Units sold: Over 1,000. No end date for the sale but there is, naturally, "limited time remaining!"
Harman Kardon Onyx Studio 3 Wireless Bluetooth Speaker: $139.99 (original price $399.99 in white, $449.95 in blue, and $499.99 in black). The speaker has a similar form factor to the Adcom Luna wireless speaker we reviewed recently, which didn't do particularly well. That may or may not have any bearing here but one thing is clear: The Onyx is going gangbusters with more than 5,000 units sold. The deal ends Saturday, June 17.