Elan TheaterPoint THP650LS Speaker System
A systematic approach to speaker design.
As consumer electronics technologies continue to morph into ever more complex forms, convergence is key. Elan Home Systems was founded in 1989 in Lexington, Kentucky, and convergence is their raison d'tre. In the past, they have brought together wholehouse automation and touchpanel control of music, phones, lighting, intercoms, and TV functions. More recently, they acquired a high-end home theater electronics company, Sunfire. Four years ago, Elan jumped into the speaker business with a line of highly regarded in-walls. This brings us to Elan's new line of converging speakers, the aptly named TheaterPoint series.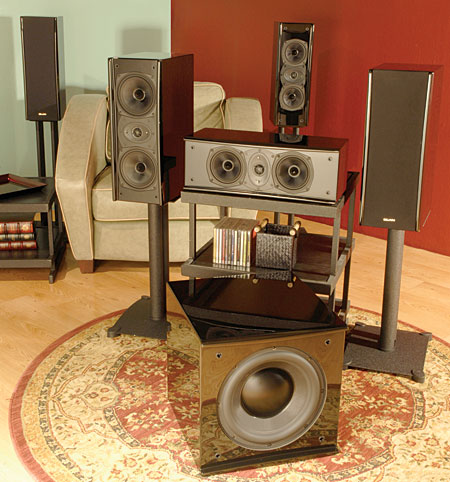 In, On, and Off the Wall
The THP525LS (which I used for the surrounds and the center) and the THP650LS (which I used for the fronts) are full-sized bookshelf speakers measuring 19-plus inches tall. Their flawless gloss-black finish will look snazzy next to a sleek plasma display. If you want to take a stealthier approach, go for the TheaterPoint in-walls—the THP525W and the THP650W ($300 and $465 each). The line also includes the THP650SS on-wall dipole speaker ($500 each), the THP650D in-wall dipole ($400 each), and the THP800C, an 8-inch three-way, in-ceiling speaker ($460 each). TheaterPoint speakers are all timbre-matched, so you can mix and match freestanding, ceiling-mount, in-wall, and on-wall designs. My landlord doesn't take too kindly to my knocking holes in my apartment's walls or ceiling, so I went with the freestanding THP models and the THP1200SW cube subwoofer ($725). Instead of the typical five-year plan, Elan covers the THPs with a lifetime warranty.
All of the THPs feature a pivoting tweeter, which isn't exactly a new idea, but Elan has designed their domes to precisely converge on the sweet spot with the help of a laser pointer that Elan includes with each speaker. (I'll get back to the laser stuff later on.) The tweeters themselves are unique. I've reviewed a gazillion speakers with Kevlar midrange drivers and woofers, but the THPs are the first to sport woven Kevlar tweeters. It's a remarkably strong material. And, since the speakers all use Kevlar woofers, the same material produces their entire frequency spectrum. That may not be sonically important, but it looks cool.
The 5.25-inch and 6.5-inch woofers feature cast-aluminum frames and there are stationary, bullet-shaped phase plugs in the centers of the woofers (instead of the more common pointy dust caps). The cast-aluminum phase plug serves as a heat sink for the woofer's copper voice coil, keeping the voice coil nice and cool when you're cranking Metallica or a Star Wars DVD. The phase plug also functions as a diffuser, smoothing out the woofer's frequency response.
The THP1200W subwoofer has a 12-inch diaphragm that is made of—you guessed it—Kevlar, but it's employed in a special three-layer Kevlar/honeycomb-aluminum/
Kevlar sandwich. Elan doesn't just claim that the woofer is many times stronger than a single-layer Kevlar, metal, or paper cone—their tech guys told me an average-weight adult could stand on the apex of the cone, and it wouldn't collapse. Yet it's no heavier than a standard cone design. Truth be told, there are pulp-based (paper) cones that can pass this test, but the point is that the sub's cone is built tough. The satellites and subwoofer have sealed-box (nonported) designs. A 300-watt digital amplifier supplies the motivation for that super-stiff-coned woofer.
Each TheaterPoint speaker is fitted with two switches for altering frequency response. The EQ switch offers some mild tonal compensation for a bright- or dead-sounding room. Set it to B (bright) to enliven the sound when you use the THP in a room with thick drapes, carpeting, and an overstuffed sofa. For a room with exposed hard floors and bare walls, use the W (warm) setting to warm up the sound. The N (neutral) option is for an average room. There's a +/0 bass-limiting switch, but you'll probably stick with the + setting. According to Elan, the 0 setting is reserved for use with ancient, pre–Dolby Digital A/V or two-channel receivers, and only then when you're using the THPs with a subwoofer.
Point and Shoot
The speakers definitely sounded best with their grilles in place and when their cabinets were parallel to the wall behind them (no toe-in). The tweeters are mounted on pivots that you can aim toward the sweet spot. That's where the laser pointer comes into the picture: Fit it to the tweeter's triangular grille, and you know exactly where the tweeter is aimed. The pointing procedure is simple enough, and it took me less than 10 minutes to laser-direct all five speakers to the sweet spot. I used my Pioneer DV-45A DVD player, Sunfire Theater Grand III surround processor, and Ayre V-6xe power amp throughout the review.
There was something about the THP system that inspired me to listen to a lot of new music, and that's always a good sign. First up was Josh Radin's We Were Here CD. Radin developed a huge following on iTunes before Columbia Records offered him a deal, and I can see why they signed him. The THP array put Radin's sweetly melodic folk tunes in the best light, and his hushed vocals have an emotional urgency that makes me think of Jeff Buckley's father, Tim. Neko Case's countrified folk CD, Fox Confessor Brings the Flood, raised my blood pressure in a hurry. Case's acrobatic vocal workouts all but threatened to leap out of the speakers. And, when I played old favorites like Gerry Mulligan Meets Ben Webster, the saxophones sounded big and juicy, and Leroy Vinnegar's stand-up bass has plenty of oomph—the lowest notes have the sort of satisfying gravitas you feel through your toes.
If I had to find fault with the speakers, it would be that they didn't "disappear" as sound sources, like some higher-end speakers do, so their portrayal of soundstage depth felt a tad reined in. Yes, those speakers are almost always pricier than the THPs, and I'm also sure that the Elan speakers' close-up immediacy will be a plus for some listeners.
But can they do blockbuster home theater? To find out, I popped in the Underworld: Evolution DVD and fell in love with vampiress Kate Beckinsale. I was so enthralled that I watched the entire film without taking a single note. I found the goth gorefest's blood-curdling ambience unsettling, thanks to the THPs' vivid portrayal of growling dogs and the endless thunder and rain.
To ward off withdrawal from The Sopranos, I rented a bunch of the series' boxed sets. The THP525LS that I used for the center speaker decoded formerly unheard nuance in Tony's heavy breathing when he's slouched in his home theater, resting a bowl of Cheerios on his belly—or when T barks orders to Silvio and Paulie Walnuts. The THPs reveled in that sort of detail.
So, Elan Home Systems' foray into speaker design is not only a rousing success, the TheaterPoints converge on the sweet spot in the market by offering flexible solutions, adaptable to the widest possible range of home theaters. For once, you can design your theater, mixing in-wall, in-ceiling, and freestanding speakers, to ensure domestic tranquility without forfeiting sonic satisfaction. That's convergence of the audiophile kind.
Highlights
• Zap! Laser-aimed tweeters
• Elan's TheaterPoint line has timbre-matched in-wall, in-ceiling, and freestanding models
LATEST VIDEO