DVDs: Law & Disorder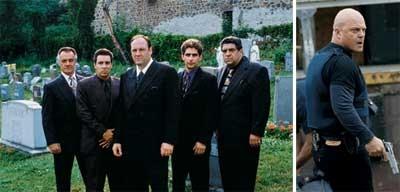 THE SOPRANOS (HBO, above - left). Jersey mafia don Tony Soprano: bigger than your average bear, and ten times as deadly. These movie-quality transfers set the standard, with excellent contrast, rich colors, and crisp, atmospherically lit images.
THE SHIELD (Fox). Det. Vic Mackey (Michael Chiklis, above - right) tussles with stealing, dealing, and murdering for the greater good in L.A. The run-and-shoot documentary style keeps Mackey's moral dilemmas in your face - as well as his.
HOMICIDE: LIFE ON THE STREET (A&E). The O.G. of the handheld 'n' Steadicam movement, with gritty storylines to die for - and Andre Braugher's ballsy portrayal of Det. Frank Pembleton.
OZ (HBO). Stark, character-driven prison drama where no one ever catches a break. Grungy, gray, and grainy to the point where you can see (and feel) the sludge oozing down the cell walls.
THE WIRE (HBO). Rubs the underbelly of Charm City with plots that unfold like fine origami. As street as it gets in the visuals and the surrounds.
PRIME SUSPECT (HBO). Jane Tennison (Helen Mirren) asks, "Who says a tough, ambitious copper can't wear skirts?" Overbright exteriors and dark, coarse interiors add to the feel of plodding British police work.
PETER GUNN (A&E). Craig Stevens's cool, bemused private eye attempts to channel Cary Grant, and mostly succeeds. Cleaned-up sound allows the magnificently moody Henry Mancini theme and rare jazz performances to shine.
WISEGUY (StudioWorks). Late-1980s prototype for story arcs and 21st-century gangster angst. Star Ken Wahl delivers some of the most brutally honest commentaries we've ever heard.
CRACKER (HBO). He's fat, he's drunk, he's addicted to gambling - and those are his good qualities. Bright transfers, solid colors, and succinct sound mixes create proper ambience, with accurate placement of effects.
NAKED CITY (Image). As in, "there are 8 million stories in the ...." Everything comes up sharp in black-and-white in this 1958-63 paean to NYC realism. Not on the docket: extras.