DVDs: Brokeback Mountain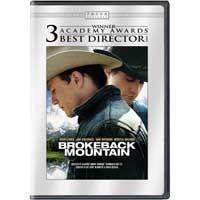 So much fuss has been made about Brokeback Mountain (Lionsgate; Movie ••••½, Picture/Sound ••••, Extras •••), especially after it was nominated for eight Oscars (winning three), that it's not worth rehashing the details here. Suffice it to say that Ang Lee's portrait of a star-crossed ranch-hand romance translates well to disc, mainly because the director uses a more intimate 1.85:1 framing instead of the 2.35:1 CinemaScope format traditionally used for Westerns - a wise choice for this character-driven movie.
Picture quality is mostly good: colors look vibrant, skin tones are natural, and shadows in the interior shots are solid. The image comes across as slightly soft, however, and cloud-filled skies have a grainy texture in the many outdoor scenes. The Dolby Digital 5.1 soundtrack is lush and full but front-heavy, with surround sound limited to an occasional subtle wraparound effect. The dialogue is mostly clear, with the exception of Heath Ledger's incessant mumbling.
Extras include standard-issue interviews of the actors and director, who take turns complimenting each other, and short featurettes on the production, the director, and being a cowboy.
more of this month's reviews Back to Homepage What's New on S&V

SPONSORED VIDEO