DVDs: The Bond That Ties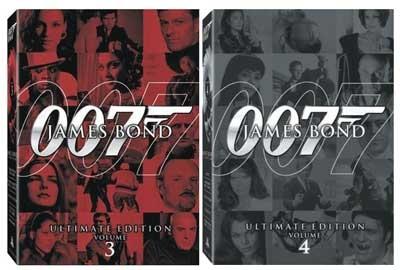 The most exciting thing about James Bond: Ultimate Edition, Vols. 3 and 4 (MGM; Movies ••••, Picture ••••, Sound ••••, Extras ••••½) is that the early masterpieces from the Golden Age look amazingly good. They sound great, too, especially in their new DTS tracks. And the other movies are considerably improved, too. Vol. 3 has From Russia with Love, On Her Majesty's Secret Service, Live and Let Die, For Your Eyes Only, and Goldeneye. Vol. 4 serves up Dr. No, You Only Live Twice, Octopussy, Moonraker, and Tomorrow Never Dies.
In their fresh incarnations, Dr. No and From Russia with Love have sharper images, richer colors, and lots of depth and detail to shots, so that distant backgrounds reveal lots of new elements. Improved contrast means that 007's all-important attire is more attractive, with blacker suits and ties against brighter white shirts. In Russia's opening scene of Bond being hunted in an unlit garden, it's now a lot easier to see what's going on. And in both movies, figures are noticeably rounder & even Ursula Andress's figure in Dr. No. What's more, all damage has been repaired and dirt cleansed, and the curtain of grain that previously covered shots has been drawn aside.
Surprisingly, in later films like Moonraker and even the more recent Goldeneye, images are newly bright, crisp, and colorful. The titles with the least visual improvement are Tomorrow Never Dies, which looked somewhat soft and dull and still does, and You Only Live Twice, which was already impressive on its previous DVD.
The clear, full-bodied mono soundtrack from that old DVD is still here, but I also love the DTS and Dolby Digital 5.1 remixes. There's nice separation, with Nancy Sinatra singing the Twice theme song in the center channel while various instruments are heard in each of the other channels. The helicopter fight in Chapter 17 has the choppers and "Little Nelly" swooping overhead and all around. Bassy explosions start from one place and then gradually wash over you, and bullets ricochet realistically.
On the old DVDs, Monty Norman's Bond theme in the 1960s movies was a bit strident, but now it's warm and has more body. Modern, multichannel soundtracks like the one for Goldeneye have a wide soundstage as well as convincing directional effects.
Not only are the picture and sound improvements in Vols. 3 and 4 more striking than in Vols. 1 and 2, but the extras are more interesting. For each double-DVD movie, Disc 1 carries the fascinating commentaries from the previous release. And Disc 2 contains all the old extras & usually two excellent, lengthy documentaries and a music video & joined by a flock of new ones. With Russia, for example, we get an interview with author Ian Fleming, an excerpt from his Desert Island Discs appearance, and, best of all, a discussion between Fleming and Raymond Chandler on the differences in their writing. They're all very short but sweet.
You also get lots of footage shot and narrated by various members of the crew, including an 8mm film made by a 16-year-old Ken Burns while playing a border guard in Octopussy. There are vintage documentaries (with Sean Connery fooling around on Twice and Roger Moore goofing on Octopussy), James Brolin screen tests for the role of 007, and wacky promotional featurettes with fictional situations. (Who could be the bride of Bond? Q and Miss Moneypenny try to guess!)
Other highlights include a demonstration of John Lowery's restoration process and a tour of his facility, decent deleted scenes, multi-angle comparisons with alternate takes, and lots of interviews with the various Bonds.
This is all icing, though. For the soundtracks alone, these $90 sets are worth the investment. But the gorgeous images in the Connery Bonds seal the deal.
more of this month's reviews Back to Homepage What's New on S&V
LATEST VIDEO