DVD Review: Twin Peaks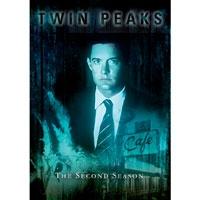 Paramount
---
Movie •••• Picture •••• Sound •••• Extras •••
Twin Peaks fans have been waiting (im)patiently for this, the DVD release of the second and final season of the groundbreaking 1990-91 series. We've had to make do with inferior videocassettes and, shall we say, "import" DVDs for years. (Okay, okay, I admit that I also have the entire series on laserdisc, but I prefer DVD.)
So, was it worth the wait? Well, does FBI Special Agent Dale Cooper like coffee, donuts, fresh air, and pie? For one thing, you really can't watch Season 2 without going back to Season 1 - seven episodes of which are part of an excellent DVD release from Artisan that came out in 2001. The pilot, not part of that set because of various legal reasons, can currently only be found on a genuine import DVD. To be truly complete, though, you should actually start with Twin Peaks: Fire Walk with Me, the much misunderstood 1992 feature-film prequel that TV series co-creator David Lynch concocted after the show was canned.
In an interview segment in the convoluted extras that came with the Fire DVD, Grace Zabriskie (who played Sarah Palmer, clairvoyant mother of dead homecoming queen Laura Palmer) revealed that working with Lynch was like "a collaboration in the dark." Once you understand that concept as being central to Lynchian methodology, the quirks of Peaks make more sense. Lynch and his collaborators took a decidedly cinematic approach to the series, filming it with the utmost respect for the material and the creative process. At the time, it jarred the senses of network-TV watchers used to cookie-cutter scene setups, obvious dialogue, tired camera angles, and tidy storylines.
Season 1 was like a beautiful, perfect dream, and it looked and sounded great on DVD. That set offered some wonderful extras, including commentaries for each episode. Does Season 2 measure up? Visually and sonically, it's very close. Season 1 gets a slight edge visually overall, but that could be due to a difference in compression, since more info is on each disc in the Season 2 set. Still, the visual detail in the 22 episodes here is wonderful. The lazy yet somehow foreboding waft of factory smoke against the blue sky during the opening credits sets the cinematic tone. Speaking of wafting, you can easily follow the thin, upward trail of smoke from the cigar of Ben Horne (Richard Beymer) against the woodgrain walls of his office in Episode 11 - and also see how it lingers around him before dissipating.