DVD REVIEW: Police Squad!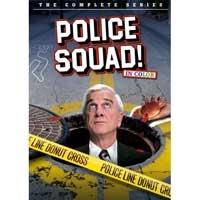 Paramount
---
Series •••½ Picture ••• Sound ••• Extras •••
The wry TV bridge between the Airplane! and Naked Gun film franchises, Police Squad! couldn't get arrested in the ratings during its all-too-brief run in 1982. Undeterred, Leslie Nielsen deftly deadpans his way through this six-episode wink 'n' nudge at 1960s and '70s crime-drama convention. Sparse, dimly lit sets belie the tight budget (all aboard the grain train!), but the patented, detailed in-the-background gags (corpse-stuffing at the morgue, endlessly long gurneys) are worth repeated viewings. Surround effects & audience titter at a nightclub, ominous reverberating footsteps, car explosions & are used in just the right places. Extras include a charmingly rambling interview with Nielsen and a chuckle-worthy gag reel. Commentaries are hit-and-miss. The four-man creative team spends two of them alternately disparaging their abilities ("TV is not our medium!") and providing the laugh track the show didn't have ("forgive us if we laugh at our own jokes"). A third with episode writer Robert Wuhl has its awkward moments ("I don't remember a thing") until the Arli$$ star zeroes in on the show's "of its time" appeal. In doing so, he surely cements the idea that Police Squad! belongs on your DVD shelf. (So true & but don't call him Shirley.)
[NR] English, Dolby Digital 5.1; full frame (1.33:1); single layer.
more of this month's reviews Back to Homepage What's New on S&V